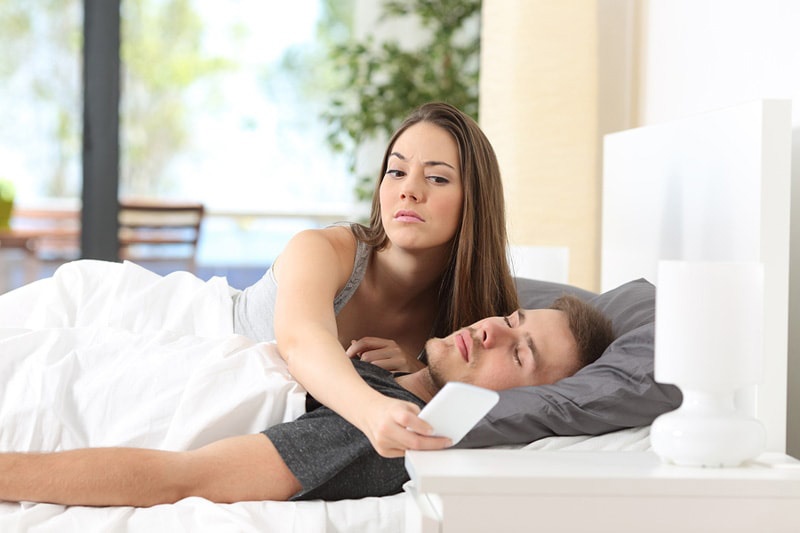 Reader Question:
Do I have a cheating spouse? I have continuously had a problem with my husband and his online or phone line flirtations, or "entertainment", as he calls them. I find phone numbers, emails, messages about hooking up and he says that it's all just entertainment because he's bored. We have a beautiful 16 month old son whom we struggled for years to have and finally, the egg dropped. I don't know if it's underlying jealousy for the attention I give to our son or what. But the bored and entertainment lines are getting to be more than just lame. I recognize the dirt which I have created as well and made great strides to rid myself of those individuals along with that mentality in order to improve myself and my marriage. Granted, as my grandmother used to say, "If you look for dirt, you'll find dirt.", my feeling is I wouldn't have to look, if he was more open with me about his wants and desires. I am willing to compromise to a point as long as it doesn't involve anything absolutely gross and degrading. Any help you can provide to me would be so greatly appreciated and welcomed." -Carrie V
My Answer:
"Do I have a cheating spouse?" is a very important question to be asking and answering.
I've counseled other couples struggling to answer the same question about when a spouse is cheating. Questionable behaviors can include flirtatious online "entertainment" like your husband's, as well as other behavior such as gawking at, and flirting with, other women in-person; looking at internet porn; even swinging (sexual activities with other people).
Clearly you both feel different about what acceptable "entertainment" is in your marriage. Ultimately the question of what defines a cheating spouse is one each couple has to reach for themselves. But to properly answer the question you've got to understand what's being triggered for you that's causing you to ask this question in the first place.
I hear 2 things you're not getting enough of in your marriage due to your husband's behavior:
It is my belief that your husband's behavior does not show respect or love to you. It is selfish and focused solely on his needs, not yours or the needs of your relationship. You deserve to be treated better. And, yes, I believe you have a cheating spouse.
Get some help from a marriage counselor to learn how to get your husband to treat you differently. Another resource you can use for help is this blog. Check out the posts under the Marriage & Marriage Counselor Q&A tags.
At the end of your email you state that you're willing to compromise sexually to meet his wants and desires. Be careful not to take on too much responsibility for his behavior, or believing that it's driven by something you're not doing or could be doing differently. Most often, men looking for "entertainment" outside the relationship has more to do with what's going on for them internally (self identity, stress relief, etc.) than it does with what's missing in the relationship.
-Kurt Smith, Marriage Counselor
Got a question you'd like to Ask a Marriage Counselor? Click here to submit it and I'll answer it in an up coming post. Be sure to sign-up below so you'll get my answer as soon as it's published.
Looking for More? Check Out These Articles
Read Comments from Others with Similar Experiences - Click 'View full post' below or scroll down