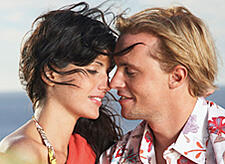 Couples counseling at Guy Stuff Counseling can mean the difference between a not-so-great relationship and a fantastic one. At Guy Stuff, we specialize in helping men and the women who love them. While every relationship is unique, Guy Stuff has learned from years of couples counseling that there are common problems in relationships. We can help you and your partner solve those problems and more.
Guy Stuff is unique in its approach to couples counseling. We are results-oriented and committed to helping you fix your relationship problems in as short a time as possible. We do not sit back passively and wait for you to come to important conclusions by yourselves. We participate actively in the process by giving professional guidance and concrete advice that will help you find solutions. Guy Stuff will also help you tackle problems that other therapists won't, such as porn addiction and money problems. Learn more about our couples counseling benefits.
We know that guys are sometimes hesitant to go to couples counseling. That is why we have gone out of our way to structure our counseling so that both men and women feel comfortable with our approach — Guy Stuff is designed for men and the women who love them. Sometimes, women may start couples counseling on their own and have their partner join in when they are ready.
No matter where you live, the counseling professionals at Guy Stuff are available to help you. If you live in Northern California, we can meet with you in person. If you do not live near the Guy Stuff offices, we can work with you over the phone or via web cam. Do not let your address be an excuse for not starting couples counseling.
Do not wait for the life and family you have built to disappear before you get the help that you need. Get started right now by taking our Partner Rater Quiz (for men and women) and see if you have got the same problems in relationships as other people we have helped in our couples counseling. You can also check out our Counseling Men Blog for helpful articles on common couples issues.