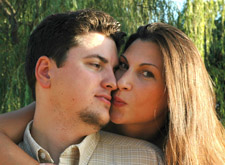 Counseling women is one of the ways Guy Stuff gives women proven solutions to improve their relationships.
If you want to learn the best way to talk to, understand, and rediscover the love you once had with your man, Guy Stuff Counseling is for you. We have helped hundreds of women (and their partners) find the results they desired, and we want to help you too. Do not just take our word for it --
read one of our women's counseling success stories
and see how we helped Rachel put fun, love, and teamwork back in her marriage through counseling women at Guy Stuff.
Through counseling women, we have learned that many women feel like they are living with a roommate or have another child -- not a partner. At Guy Stuff, we speak 'guy' and can help you figure out what your man is really trying to communicate when he says or does things that you just do not understand or that frustrate you or make you angry.
We will provide you with concrete recommendations, answers, and ways you can help him become a better partner, father, and man. At our very first session, we will create a plan of action together to get you the results you want for your relationship and your life.
If you are looking for change, and not just some place to vent, you have come to the right place. It is proven that counseling women with Guy Stuff's methods gets results. Our counseling is goal-oriented and focused on finding solutions. We have helped countless women who have had problems with their men, and they have seen the benefits of women's counseling and loved the results. We have worked with women all over the country and throughout the world to help them restore their relationships with their partners.
Do not just sit by and let the life and family you have built together slip away. Take action right now by taking our Partner Rater Quiz, and see if you have got the same relationship problems as other women we have helped. Or check out our helpful relationship articles on our Counseling Men Blog.