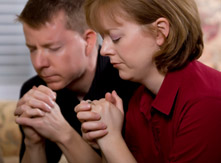 You probably want to know how Christian counseling works at Guy Stuff Counseling. We can work with you either individually, as a couple, or as a family. We can meet every week or every other week or some other schedule that we create together. Our sessions together can be for 45 minutes, or you can schedule a 90-minute '2 meetings in 1.'
Although Christians have many of the same issues as non-Christians, there is a different approach to Christian counseling. At Guy Stuff, Dr. Kurt Smith's Christian counseling takes the same straightforward, outcome-focused approach we do with non-Christian counseling, but we add in biblical truths and principles. That is how Christian counseling works at Guy Stuff.
Guy Stuff's Christian counselor, Dr. Kurt Smith, is willing to include scripture and prayer in the counseling meetings if you desire. You will not find any judgment here. We offer you compassion and change – not judgment and shame – so you can enjoy the benefits of Christian counseling. You know you want to do the right thing, maybe you just may need help learning how from someone who knows how – and is a Christian, too.
Our Christian counseling is not affiliated with any church or organization. Any person or couple who would like guidance from a Christian perspective can benefit – regardless of your connection to any church. Your sessions with us are completely confidential. We do not share any information with anyone other than yourself.
If you are in Northern California, we can meet face-to-face. If you are in any other part of the country or world, we can help, too. We have had a lot of success counseling people on the phone and even over the Internet via web cam.
Take control - look over our Christian counseling benefits and see how Christian counseling works with Guy Stuff. Don't forget to take our Partner Rater Quiz and get a quick assessment of your relationship. You can also check out our Counseling Men Blog for articles on different counseling-related topics.