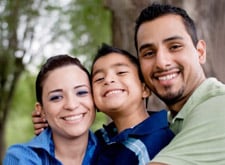 Rebecca and Jason separated 3 months ago. Although living apart, they're sharing custody of their 4-year-old son, Ryan. Since the separation, Ryan has a meltdown whenever he has to leave mom to go live with dad for the rest of the week. Their living arrangement is tearing all three of them apart. Rebecca read some couples counseling success stories, but worried that Jason would not be on board.
Rebecca and Jason still care about each other and want to be a family again. But, they have some really difficult obstacles to overcome. Jason's mother is too intrusive for Rebecca, and that has caused a lot of tension between them. Rebecca had an affair a few years back, and Jason has had a very difficult time trusting her again. Neither of them is comfortable with confrontation, so instead of fighting, they just avoided each other. They knew they needed help and wanted to become one of the couples counseling success stories.
Jason and Rebecca chose to go to Guy Stuff Counseling because of our direct, solution-focused approach. At first, we started out meeting with Jason and Rebecca separately. Jason learned how to set some boundaries with his mother, while Rebecca got some strategies to use in earning Jason's trust slowly but surely.
When Rebecca and Jason were ready, we started meeting together as a couple. Guy Stuff gave Jason and Rebecca simple, straightforward methods that helped them to better communicate with each other. We taught them to use 2 tools to work through conflict instead of avoiding it. With Guy Stuff's guidance and accountability, they worked towards feeling confident enough in the changes to live together again.
Rebecca and Jason are now back together as a family and have become one of Guy Stuff's couples counseling success stories.
Want to be one of our couples counseling success stories? Read how to start couples counseling and get Guy Stuff helping improve your relationship today. Also take our Partner Rater Quiz and see where your relationship rates (there's quiz for men and women).