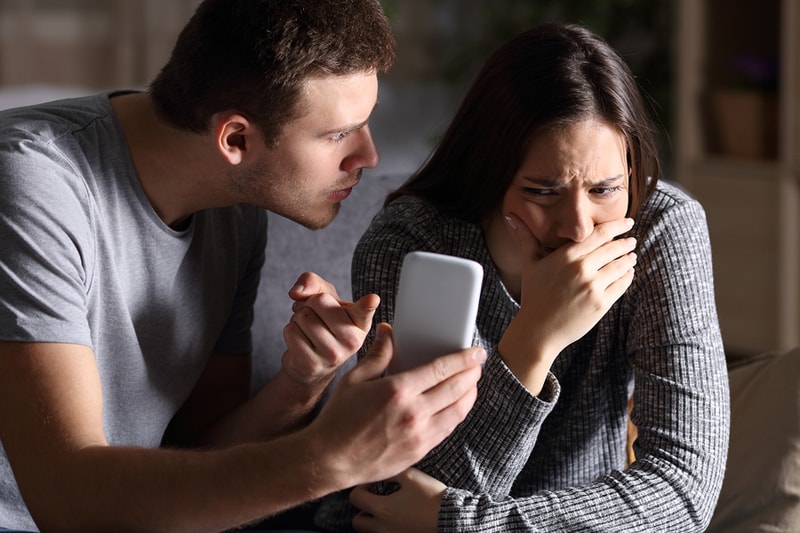 5 Min Read
Contents
Your wife cheats on you – now what?
It's one of those things you don't really think is ever going to happen. In fact, statistically speaking, it isn't likely to happen. Of course, statistics don't mean much to someone who has experienced it. So, what do you do when you find out that your wife has cheated (or is cheating) on you?
Infidelity is one of the most painful things to go through in a relationship. The betrayal of trust, the hurt, the anger, the feeling that you have somehow failed or driven her to it – these are all torturous to experience and not something you can really prepare for.
But if you find yourself having to figure out how to handle things after your wife cheats on you and wondering what to do next, there are a number of things to consider.
What Should You Do First If Your Wife Cheats On You?
First, take a deep breath. Whether you suspected it, or it's coming as a total surprise, this is emotionally jarring news. And it hurts – really hurts.
When you've found out your wife has cheated your initial reactions will be driven purely by emotion.
The order and expression of these emotions can vary from man to man, but everyone will experience some version of anger and sadness. Some men will feel sad and hopeless initially, others will feel angry and vengeful. Regardless of the order, strong feelings will surface and need to be dealt with.
So, what things should you do if your wife cheats on you? And, equally as important, what should you not do?
Dr. Kurt has counseled many men and couples that have been affected by infidelity and it can be difficult (but not impossible) to get past. According to him,
How you respond when your wife cheats is crucial as it sets the tone for all that will follow. Most men's anger and pain leads them to an impulsive response that just drives their partner further away and makes her more resolved to continue the affair or leave. Questioning whether or not you want to stay married to a wife who cheats on you is understandable and normal. Answering that question, however, should take some time so that it's made intelligently and not emotionally. Recovering from an affair is really, really hard and is best done with a professional counselor who's been through it before."
Should I Confront Her And Ask Why She Cheated – Does It Matter?
Yes, the why does matter and understanding that will help you figure out what to do now that you know your wife has cheated on you. The reason she cheated will vary a great deal from woman to woman. There is no single reason why a woman cheats (or a man).
Cheating is clearly a sign of trouble in the relationship. You'll need to understand the problems in order to fix things.
Ultimately, however, cheating has less to do with you as a partner and more to do with her personal failings. Figuring out the actual reasons why it happened can be a process though. And it's an important piece when you're determining what to do when your wife has been caught cheating.
It won't make things okay - there is no real justification for infidelity. It will, however, help you as a couple figure out why you have ended up in this situation.
Cheating does not have to be the end of a marriage, although people often assume that it does.
If She Cheats On Me It's Over, Right?
Not necessarily. As mentioned, cheating does not have to be the end of your marriage. Surviving infidelity is possible. It could actually be the beginning of a healing and growing process. And while it is not the ideal way to figure out that your marriage is in trouble, it certainly leaves no doubt.
If you're in the unfortunate circumstance of having to figure out what to do when your wife cheats on you, take heart in the fact that many relationships have been able to get past an affair. It is not an easy task though.
You will both need to be committed to the work it will take to bring things back to a healthy place. Getting to that place and reconnecting can take time, however, so you'll need to have patience as well.
Why Would She Cheat On Me If She Still Loves Me?
One of the hardest pills to swallow when your wife cheats on you is the idea that she's fallen out of love with you and potentially in love with someone else. That may not be the case, however.
It's a natural leap to go from "She cheated on me" . . . to "She doesn't love me anymore."
How could she, right? If she loved you she wouldn't have cheated.
Not so fast.
Many people who cheat claim to still love their spouses and don't want to end things. It seems counterintuitive, but there are lots of reasons women give for cheating. Some of the most common include:
None of these things should be accepted as justification. But they often go hand-in-hand with, "I still love you."
They also help illustrate the how cheating can be the result of other problems in the marriage. One of the things you need to do if your wife cheats on you is to think about and accept the part you've played in the problems in your marriage.
What To Take Away
To say that dealing with an affair in a relationship is difficult and painful is an understatement. It is one of the hardest things any couple can face. But remember that you got married for a reason. Those reasons are likely to still be there, even if they are buried under mountains of life and marital problems.
Figuring out what to do when your wife cheats on you will likely take the help of a counselor and belief in the foundation that you built early on. But, if you're committed to the marriage and recovering what you once had, anything is possible - we've seen it happen many, many times.
Editor's Note: This post was originally published March 29, 2018 and has been updated with new information for accuracy and comprehensiveness.
Looking for More? Check Out These Articles
Read Comments from Others with Similar Experiences Below