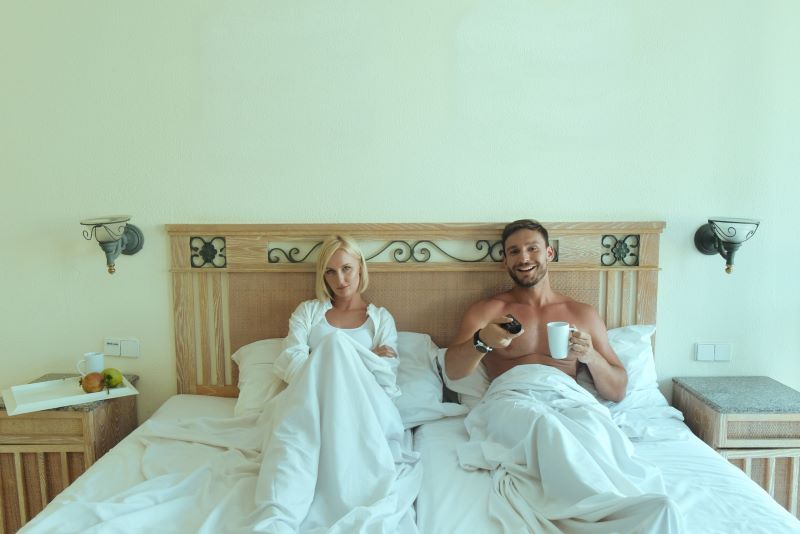 No relationship is perfect because no person is perfect. No matter how well you get along there will be things about your partner that you don't like or that bother you. If your relationship is strong then most of these things can be handled, or a compromise found. But there are some issues that can pose a serious problem to relationships - porn is one of them. If your boyfriend is watching porn then there are reasons you should care, and it may be something that you will need to think long and hard about and discuss.
Many people (predominately men) watch porn and have a variety of reasons for doing so. And because it's been largely normalized in society, there's pressure to accept it as something that's okay and no big deal. But the truth is that if your boyfriend or husband is watching porn it can cause a number of issues and being concerned about their porn watching habit is valid.
Problems Watching Porn Can Cause In A Relationship
A strong relationship is built on love, trust, and respect. You each make yourselves vulnerable to one another and trust that you won't intentionally hurt each other. Unfortunately, we often do things unintentionally that can cause pain to our partner and break that trust. Viewing porn is one of those things that your boyfriend could be doing that can hurt you and damage your relationship.
We all know that cheating on someone is a violation of trust and can destroy a relationship. Many argue that watching porn isn't the same things as cheating and therefore shouldn't really pose a threat to a relationship in the same way. One of the biggest problems with that argument is that although it theoretically it seems logical, emotionally it falls short. Even though he may not physically be touching another woman, when your boyfriend watches porn it can feel just like he's invited someone else into your relationship and bed.
If your boyfriend is watching porn and it feels like a betrayal of your trust, that feeling can follow you into other aspects of your relationship as well. You may find yourself second guessing things like what he's doing on his phone, or wondering why he's spending so much time in the bathroom with the iPad. Those concerns can blossom into worries about possible cheating or affairs and these concerns can lead to arguing and fights. These worries will ultimately drive a wedge further between you leading to bigger problems. Eventually these issues will compound and can feel nearly impossible to overcome.
Porn can also trigger serious self-esteem issues for women. The actors in the movies aren't representative of what a normal and natural woman looks like. Breast augmentations, lifts (breast and butt), fillers, or just an unusually well proportioned body, can leave many normal women feeling inadequate and embarrassed about their own bodies. These feelings are not only detrimental to women psychologically, but they will also have a negative effect on the closeness and intimacy within the relationship. Boyfriend's watching porn can leave women feeling upset and as though they don't really measure up and fulfill the real desires of their boyfriends or husbands.
In short, porn can break the intimate connection that a couple has and intimacy is crucial to a healthy relationship. But because it's something that has such a common place in society it can be hard to talk about how we feel and we can feel like prudes, or like we're being unreasonable by being bothered by it. Therefore it goes unaddressed, eventually causing distance in the relationship and potentially resentment.
If your boyfriend is watching porn it can cause a serious strain on your sex life as well. Porn sets up unrealistic expectations for what qualifies as normal sexual activity in bed. Actors in pornography are paid to do things that are shocking, extreme, and provocative. The same way adventure movies show things that don't occur in real life, like actors jumping off buildings and dodging bullets, porn shows behaviors that generally don't occur in a typical sexual relationship. Or, perhaps more relatable, romcoms that depict grand romantic gestures like the man that sells all his worldly possessions to buy the perfect ring and propose in the middle of a crowded, well, anywhere.
Dr. Kurt has worked with many couples for whom porn has become a problem. He has seen the many problems porn can cause. According to Dr. Kurt,
When your boyfriend watches porn it's actually like he's watching a twisted sex-ed film. But it doesn't lead to a healthy understanding of sex. And, sadly, porn is where most men learn about sex and how to be sexually intimate with a woman. Why is this a problem? The vast majority of porn is focused on pleasing the man, not both partners. It mostly portrays men's fantasies, not women's. Porn rewires the brain and produces a high similar to drugs like cocaine that is very addictive. Experiencing this high can become more desired and more important than being intimate with you. In other words, porn will replace you. You should care that your boyfriend watches porn because it will change him (or already has) and your relationship in ways that will deeply damage and even destroy it."
The point is that movies are fantasy, action-adventure, romcoms, and porn. But for some reason porn is often looked at like more of a documentary and watching it can create the desire for the things seen on the screen to occur in your real-life bed. And when they don't the repercussions can devastate a relationship. Women can feel inadequate and men can develop a reliance on pornography rather than their partner for sexual satisfaction.
All of this means that you should care and be concerned if your boyfriend is watching porn.
Accepting That Your Boyfriend Watches Porn – Or Not
Porn is a very sensitive and personal topic. Whether you accept that your boyfriend watches porn is something only you can decide. There are, however, reasons why you should care about his porn habit and think long and hard before you decide if it's okay with you.
Does it bother you? People's feelings about porn viewing vary widely. And within the opinions people have about porn as a whole, there are specific feelings people have about the place porn has in their relationship. For instance, some may say they don't care about porn in general, but they absolutely don't want to watch it themselves or have a partner that watches it. So if you are trying to decide if you should care that your boyfriend watches porn, take a minute to really think about whether his watching bothers you. And remember, it's okay if it does. There is nothing wrong with feeling that watching other people have sex isn't for you and that it doesn't belong in your relationship.
Do you want him to stop? If it does bother you, does it bother you to the degree that you want him to stop? As mentioned, there are things about any partner that will bug you but that you let slide. Is porn one of them? Keep in mind that even if it seems like no big deal right now, porn viewing can often chip away the intimacy and trust you are trying to cultivate. If you want him to stop watching porn, being honest about your feelings right away is important.
It won't get better or go away on it's own. If you decide you don't care that your boyfriend watches porn, know that's not one of those habits that he will eventually lose interest in. In fact, his porn watching will likely just increase and can lead to an addiction. As time goes on and he becomes desensitized to certain images he will start to look for things that are more and more extreme. This can be a very slippery slope and you need to be prepared that what you accept now may not be what you want to accept later. So where do you draw the line and how will you draw it?
His respect for your feelings. If you decide that you really are bothered by porn and you would like him to stop, will he? Porn can have a profound effect on a woman's self-esteem and, as mentioned above, take a serious toll on the trust and intimacy in a relationship. If you express your feelings to your boyfriend, or husband, and ask him to stop, he should respect your feelings enough to do so. Contrary to what some would believe, porn isn't a solo activity and it's not a hobby. It isn't the same as asking him to stop gaming or give up running. His habit affects you directly and he should be willing to do what's best for the two of you as a couple.
Women in newer relationships will often claim that porn doesn't bother them. This can be especially true of younger women who are trying to be open and accepting of sexuality and personal freedom. But there are real and valid reasons that you should care if your boyfriend is watching porn, especially if you are considering this relationship as one that has potential to become permanent. The boyfriend that watches porn will become the husband that watches porn, and a marriage can be a much harder ship to turn than a dating relationship.
Looking for More? Check Out These Articles
Read Comments from Others with Similar Experiences - Click 'View full post' below or scroll down