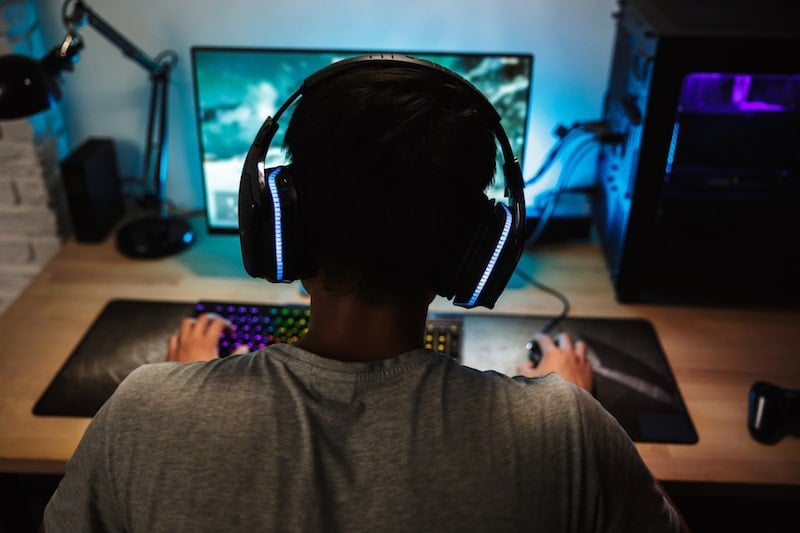 A couple of years ago a man and his wife came to Guy Stuff for help with his porn addiction. There was nothing unusual about it since I treat that problem every day. However, what made this man different is that he wasn't watching the typical online porn. He was playing video game porn. And I'd never heard of porn games before, which is unusual since I hear about a lot of strange stuff.
While this guy's behavior troubled his wife just as if it was real-person porn, he reasoned that it wasn't that bad since it was "just a video game." Being "just a game" also made it easier for him to do it any where any time. Rather than needing to be sneaky and find alone time to watch porn, he just pulled out his phone whenever he was bored and had a few minutes of fun playing his "favorite game."
What this man's behavior was revealing back then was the blurring of the lines between gaming and porn, which has only increased since. Pushing the boundaries for sexually graphic content in video games has been happening for years. And as a result, sexualized characters in games are nothing new. But now the porn industry is making intentional inroads into the gaming industry by producing video game porn.
How Much Sex Is Actually In Video Games?
For years popular video games, from World of Warcraft to Grand Theft Auto, have presented overly sexual characters, or more precisely women, in their games. Female characters with large, bulging breasts and amplified cleavage are to be expected, and outright nudity has become more and more common.
Should this really be surprising? After all, doesn't this just mirror what has become normal in movies and popular television shows like Game of Thrones?
An example of a popular sexualized video game is the animated simulated-dating role playing game (RPG) HuniePop. Here's how the game's developer rationalized it's content:
I don't know if it was a matter of pride or what, but I've generally tried to avoid 'porn game' sites because I never saw HuniePop as a 'porn game'. To me it's a 'real game' that just happens to have some nice melons in it," said studio HunieDev.
Nothing wrong with looking at some "nice melons" while you're killing some aliens, or in this case pretend dating, especially if you're a 10-year-old boy, right?
One of the places HuniePop is available is on the online video game distribution platform Steam. This platform allows users to place tags on the games it hosts describing the content, similar to the movie rating system. On Steam the nudity tag is the 19th most popular tag from over 680 choices. And players, not some independent, objective organization, are applying this tag.
According to the National Center on Sexual Exploitation:
In the past few years, sexually graphic content has skyrocketed on popular video game websites, such as on Steam which hosted approximately 780 games with nudity in 2017 but which now hosts over 1,600 games with nudity in 2018.
The Connection Between Video Games And Porn
As I've already described, sexual content has been present in video games for a long time and the limits of what is acceptable keep getting pushed further and further. But no longer is it just game developers like the one above supplying some "nice melons." Here's a recent headline:
Pornography Company Targets Video Game Industry
MindGeek, which owns a number of porn sites, has started its own online distribution platform, just like Steam, but for pornographic video games. They've sneakily named it an online slang term used for gamers into anime. Originating in Japan, anime is a style of cartoon (similar to the cartoon Speed Racer from the late 60s) that's popular among kids and can be also used to depict porn. By choosing this title the developers are likely hoping that searchers for anime will find their porn video games instead.
Sadly, it's very easy to be looking through anime and find anything from extremely sexualized characters to characters engaged in sex acts. And this cartoon porn can be found on many mainstream social media sites too as it's widely shared.
More than 50% of men play video games and watch porn - both frequently. In fact, there's a strong correlation between playing games and viewing porn.
Fortnite, a very popular online video game crashed in April of 2018 for more than 24 hours. During this period a popular porn site found that the number of gamers visiting its site increased by 10%, and the number of searches for porn videos using the search term "Fortnite" increased 60%. In other words, when gamers couldn't play their favorite game they searched for porn with the same characters to watch.
What Is Video Game Porn?
Video game porn is cartoon or animated characters, which in video games today can be so life-like that if you're not paying attention you'll think they're real, that are either nude or engaged in sexual acts just like real person porn.
Animated sex games are now being widely promoted on porn sites. They're usually described as porn games, sex games, or sex simulators. Here are a few promotional lines from some of their advertisements:
Play a Free Sex Game
Choose your Hottie
Build Her then F--- Her
You Won't Last 5 Minutes Playing this 3D Porn Game
It could be easy to dismiss the significance and impact of these games. After all, why would someone want to look at cartoon porn when they can look at the real thing? Well, first, thousands of women have asked me the same thing over the years about online porn as they've tried to understand why their man would want to look at a woman on a screen when they have the real thing. Just a few of the many reasons why people can develop a secret addiction to porn include the availability, variety, and no risk of rejection.
Second, the answer of why people are drawn to porn games is one of the biggest things that makes porn so appealing and addictive in the first place - Fantasy. These new porn video games let players create and experience their own unique sexual fantasies.
Here's a description of what video game porn is like from one of the game sites:
Fulfill your deepest sexual desires with no limit. A sex game where you have no limits with your sexual desires. You can build your perfect dream girl and customize everything about her. You can simulate sex you never thought was possible. Your virtual sex partner will do anything you say and never refuse you. You will also be able to build your own avatar, which is VR compatible and connect with real players in live sex rooms. If you can dream it, you can build it."
Traditional porn up to this point just presents sex in various forms. Because there's so much available now it's highly categorized so you can choose the type of woman (or man) you want to see, the scenario, etc. But with video game porn you can go further and actually build your own customized sexual fantasy. And then do it over and over again. It's just like being the producer of your own porn film. See how this could be appealing? I certainly do.
What type of woman do you want to have sex with? Come on to you? Beg you to do ____ to her?
Blonde or brunette?
Tall or short?
Athletic or thick?
Breast size?
Butt how big?
Like Asian women?
Got some special fantasy about...???
With a porn game you get to decide all of this and more for yourself, and then play out your fantasy. Didn't like it? Then create another one and do it again. And unlike typical porn you're not just watching you're participating. The growing availability of VR (virtual reality) porn is slowly changing this difference though. Yet what sets the newest versions of video game porn apart is the ability for the player to create their own.
Here are a couple of player reviews from the porn game site quoted above:
These games changed the way I get off."
I love hooking up with people in these real life games."
The Effect Of Porn In Video Games
The majority (more than 50%) of boys, young men, and adult men play video games and watch porn. So what's the effect on them?
Here are some growing problems in men that researchers have connected to the activities of gaming and watching porn. It's not being suggested that one causes the other (i.e. gaming makes you depressed), but there does appear to be some connection.
Boys and men are becoming more and more anxious, depressed and committing suicide.
1 out 3 boys grows up without a father. Those fortunate enough to have a father present in their lives converse with their father an average of 30 minutes a week, while they spend 44 hours each week in front of a screen.
Playing video games and viewing porn has been correlated with having poor romantic relationships.
Research by the Institute for Family Studies has explored how the online activities of social media, pornography and video games affect relationship happiness. They've found that while social media has a negative impact on both men and women, only men were impacted by porn and gaming.
Their survey found porn was selected as one the top 3 online activities by 22% of cohabiting men and 11% of married men. Keep in mind that most men aren't going to be honest about their porn viewing even on an anonymous survey, so these percentages are very likely low. The men who ranked porn in their top 3 activities were also 15% less likely to be "very satisfied" with their relationship. For video games, 25% of the men surveyed put it in their top 3 online activities and were 10% less likely to be satisfied in their relationship.
I was addicted to gaming and porn because I was addicted to escapism." -Paolo
The institute suggested 3 reasons for their results:
Men turn to porn to deal with their unhappiness with their relationship.
Online porn may give men a "new standard for comparison" (porn stars verses their partner), which feeds sexual dissatisfaction and therefore relationship unhappiness.
Viewing porn "may result in sex becoming more about men's own physical pleasure and less about the emotional aspect of sex."
These are all true, but there's much more to the negative effects of porn than just this. Additionally, men can and do similarly turn to gaming to deal with unhappiness with their partner. It would seem that the last two reasons above wouldn't apply to gaming, but now with availability of video game porn the sexual comparison and self-pleasure aspects of porn can now come along with game play as well.
Pornography promises orgasm without intimacy. Video warfare promises adrenaline without danger. The arousal that makes these so attractive is ultimately spiritual to the core." -Russell Moore
Watching porn and playing video games are both extremely addictive. The appeal is not just in the activity itself (i.e. sex), but the developers design them in a way to be even more addictive since they make their money by the continual use of online games and not just from a one-time purchase.
The more you game, the more you want to game, the more your brain wants to game, so the more you game, and then you experience structural brain changes." -Cam Adair, former video game addict
Video games are widely accepted as an appropriate activity for kids and adults. Unfortunately, one of the things that's not being considered is their influence on sexual expectations and beliefs. While porn is becoming more socially accepted, it's still not anywhere near that of gaming. With the ability to experience porn while gaming a new gateway has been opened for porn to become even more normalized. Just like the patient I treated and described at the beginning of this article said, "What's the problem? It's just a game."
When I'm in class, I'll wish I was playing World of Warcraft. When I'm with a girl, I'll wish I was watching pornography, because I'll never get rejected." -The Mindset of a Gaming & Porn Addicted Young Man
Video game porn is a problem - a big problem. And, unfortunately, it's only going to get worse. The most important thing to do is to recognize the destructive elements of it and to develop a safety plan to protect yourself and your family. If you or someone you care about may be addicted to porn, video games, or porn video games, get some professional help. Like all addictions, it's possible to change this behavior, but it just isn't that easy because of how strong the addictive elements are in both gaming and porn
Have you had any experience with video game porn? Please share with us in a comment below.
Looking for More? Check Out These Articles
Read Comments from Others with Similar Experiences - Click 'View full post' below or scroll down