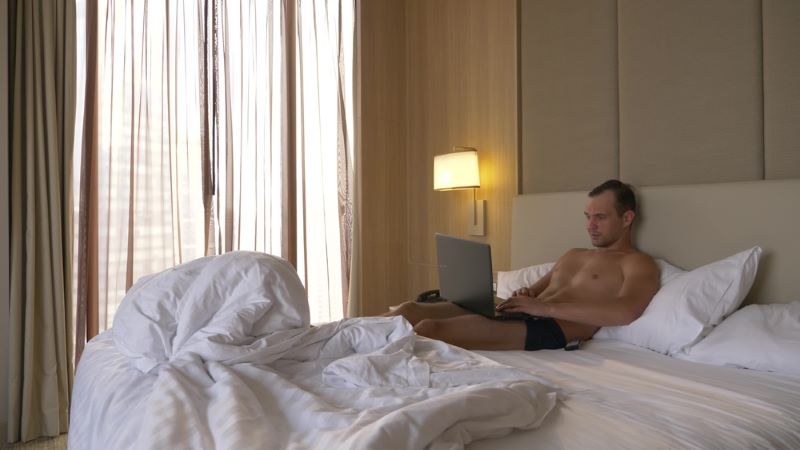 6 Min Read
Contents
One of the most genuine pleasures in a romantic relationship is sex. Let's not beat around the bush – sex is fun, it makes you feel good, and in a loving relationship brings you closer and deepens the intimacy. But what if you find out along the way that your husband actually prefers his hand over you when it comes to sexual pleasure?
It's generally accepted that all people will masturbate at some point in their lives. There shouldn't be any shame in that. However, when you're in a committed relationship it's also generally assumed that there's no longer a reason for masturbation to occur. Why use your hand when you can have the real thing? This is a question asked by many women when they find out that their husband prefers his own hand over them.
Why He Likes His Own "Handy" Work
Although it's not discussed in polite company, most people at some point have engaged in self-love. Puberty is the probably the most obvious time of life for this to occur, and boys are perhaps more prone to masturbate than girls (or at least more frequently).
But if you ask any man whether he'd rather have sex with a woman or be left to his own devices we all think we know the answer. Which makes it's all the more confusing for women when their partners opt to use their own hand rather than have sex with them.
There are, however, reasons this can happen – some more concerning than others.
These, however, are not the only reasons your husband may prefer his hand over you.
Your Husband's Hand And It's Connection To Porn
The most concerning reason your husband may prefer his hand over you has to do with porn and porn addiction. And, sadly, this is possibly the most common reason women find their husbands masturbating rather than coming to them for sex.
Porn is easy to find and for many guys just seems like a normal guy thing to do. But it's hard to watch porn without masturbating. I mean really, what other reason is there for watching porn at all? It's certainly not for the creative lighting or cinematography.
So, when a man routinely watches porn he also routinely masturbates. Of course, he may come to you for sex after watching porn, but that brings up a whole other set of issues. Either way, it becomes a vicious cycle very often leading to porn addiction and bigger problems in the relationship.
What He May Not Understand About How You Feel When He Masturbates
Does all of this mean that your husband's a sex addict and your sex life is a lost cause? Not at all. It does mean, however, that there's some work to do.
If you've never discussed it with him it's quite possible he has no idea that it bothers you when he masturbates. It's also possible he has no idea you know, or a least know how frequently he does it. Which makes the first thing you need to do is to find a way to talk to him about it.
Sounds kind of awful, doesn't it? I mean how does that conversation start? It's not really a bring-it-up-over-coffee kind of topic. But bring it up you must (no pun intended).
Every couple and situation are different, but consider these tips for making things go more smoothly.
If even in using these tips you're still finding that nothing is changing you may need additional help. Dr. Kurt has worked with many couples dealing with this situation and it can be a complicated problem to solve.
This is a topic where it's very easy for the sexes to misunderstand each other. Most women see this as a simple choice - he can either choose to have sex with his hand or have sex with me. A lot of men don't even see it as a choice, let alone as one option or the other. The reality is the majority of men masturbate, regularly, and do so regardless of whether or not they're having sex with their partner. A lot of guys have told me they use masturbation as a stress reliever - similar to having a beer after work. These differing viewpoints between women and men on this subject can make it very polarizing. There is truth on both sides, so trying to be understanding of each other is the first place to start."
Although it's not the actual words, when a woman says, "My husband prefers his hand over me," what she's also saying is that it hurts, and her self-esteem is being negatively affected when he masturbates frequently - especially if there's porn involved.
If you are a woman in this situation, or even the man putting her there, know that things need to change in order for your relationship to be balanced and healthy.
Sex, especially in a marriage, should not only be fun, it should also be shared and bring you closer together. If you think your husband prefers his hand over you know that you're not crazy for wanting things to be different.
Looking for More? Check Out These Articles
Read Comments from Others with Similar Experiences Below