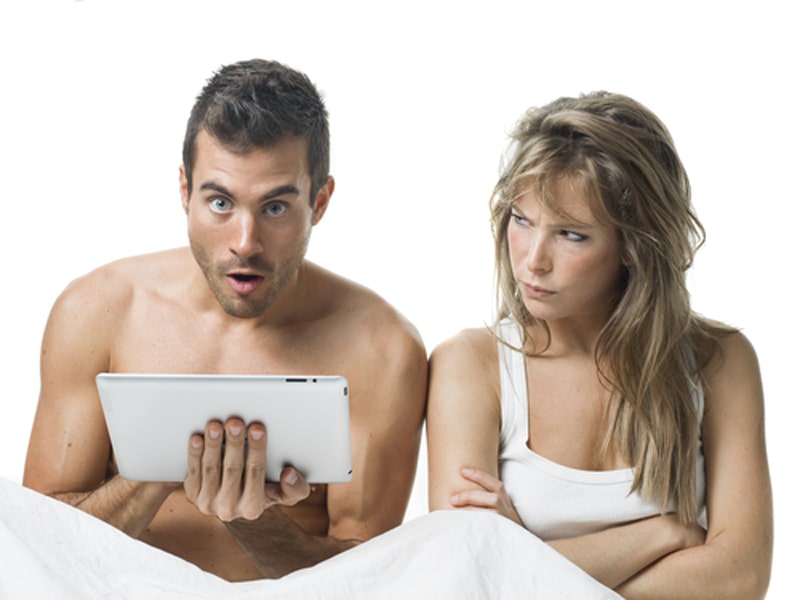 9 Min Read
Contents
One of the most common areas of disagreement between men and women is sex. Almost always the man wants more, and the woman wants less (or sometimes isn't interested at all). And porn significantly impacts this difference in sex drive in ways most people don't even realize. As a result, the watching of porn by men leads many women to wonder, "Why does my boyfriend watch porn then want to have sex with me?"
The impact porn has on their men is a source of much confusion for women.
Women can wonder,
If he's looking at porn and so interested and turned on by other women, why would he still be interested in having sex with me?"
Good question.
If he's masturbating while viewing porn then why would he still want sex?"
Another good question.
After all, a lot of men say they're only viewing porn because they don't get enough sex from their partners. Any woman who's had their partner try to justify looking at porn has likely heard this excuse before.
Why does my boyfriend secretly watch porn right before we have sex?" -Serena
In order to answer these questions, and Serena's in particular, we've got to first discuss the impact porn has on a man's sex drive.
While most people, especially guys, believe porn is harmless, it's not. Read on.
Porn Changes The Sex Drive
Men always want to have sex, right?
Well, that's the assumption anyway, and it's true for most men. However, porn viewing has a big impact on the sex drive, and it isn't always in the way most people would assume.
Here's a common example of how porn viewing decreases interest in sex with a partner:
My husband always watch porn sites and do masturbating. And he does not want to make relations with me. Alwaz refuses to have sex with me. I don't want to live with him. Plz help me." -Nora
Nora's husband's sex drive hasn't actually decreased, although that's what it's like from her perspective since he won't have sex with her. What's changed is his choice of sexual outlet.
Instead of sex with her he's having sex with images on a screen. Porn has replaced her.
Porn often becomes a substitute for sex with a partner. On the surface there's a lot that can make it more appealing.
It's always available and ready.


Just a couple of clicks and someone wants you.


Porn never says "no."


It's limitless, and there's an endless variety to meet any interest or level of stimulation needed.
It's hard for a real-life partner to compete with that.
Here's another example:
I am hurting so bad, my boyfriend and I have been together over 2 and a half yrs. Since we have been together I was aware things were not right but put it down to him getting used to me. I asked and was told he dint feel well or was tired, so was patient and tried other times, which hurt a bit also being the one who always made the first move. Every few months things would get me down, hardly having sex, him never climaxing from sex, always me making the first move.

I have always known he watches porn, I am open minded and did not mind, occasionally, and it was obvious this was more enjoyable. But as things continued to be bad, even though I gave him so much opportunity to tell me what he wanted me to do better. Once I saw some emails from chat sites, I was really hurt, when I asked he said they were from yrs ago and dint even know the passwords, he was upset and I believed him, now I'm not so sure. This is because 7 or 8 months later I have realised and found out that he is making up excuses all the time not too have sex, then the minute I'm out the door puts porn on, so basically he is rejecting me and SAVING himself for porn....

Once I let myself acknowledge this it has killed me inside. I want to leave so bad. I feel so ugly, and worthless. All my happiness and hope that I have had (first time in a lot of yrs) it has all gone! My feelings have took me by surprise, I wasn't aware I would feel so devastated, and feel so negative towards him. I just want to leave, I have two teenagers, he doesn't have any. Just 6 months ago I sold my house and moved in with him, why did I not realise sooner, why did he lie so much and ever think I would be happy with how he was treating me!

Now I'm stuck and don't know what to do, I have absolutely no family, and haven't had a happy existence so far, and I am aware I have some insecurity issues. Because he realises I am so hurt, he had assessment for counselling, and I am waiting for an appointment. However, I can't help thinking what's the point! This is who he is.... And if he had genuinely wanted to change he would of. I am not sure I could ever trust him again anyway. All I have ever wanted is to be wanted, I just need to be wanted for once in my whole life! I'm so unhappy." -Zoe
Both of these women's stories are pretty typical of the effect porn can have on the sexual relationship, but they don't explain why some men want more sex when watching porn.
I share these two examples because the impact of porn can look different for each person, and even change at different times. For instance, the two men above who have replaced sex with their partners with porn could suddenly one day be interested in sex with their girlfriends again. This ever-shifting interest just adds to the confusion for partners.
The bottom line is that porn changes sexual desire, interests, and drive. The above examples illustrate just one of the ways that happens.
But can porn increase sex drive?
Yes, and it usually does this more than lessen it. Again, in the examples above the men's sex drive hasn't likely lessened, it's probably actually increased due to porn, but that's not their girlfriend's experience.
So, let's answer Serena's and many other women's original question, "Why does my boyfriend watch porn then want to have sex with me?"
Why He Wants Porn And Sex With You
Porn causes arousal, but not always relief (through the high of reaching orgasm).
And actually, to make porn's affect even more complicated, it doesn't even always produce arousal either.
Depending upon a person's age, health, and porn history (the more porn watched the longer arousal takes), arousal can become more and more difficult to achieve. Challenges with arousal can be one of the reasons why your boyfriend wants sex after watching porn.
My boyfriend watches porn a lot. I don't get it why? I'm walking naked in the room but does he care NO! He's still looking at porn. It might be OK to watch sometimes but not every time. Sometimes when I'm a sleep and he's getting off the porn site, he jumps into bed and goes undoing my clothes then touching me in different places, then he gets on top of me he's trying to put his c**k into me but it isn't hard yet, just when I'm getting in the mood then in 4 seconds he's done already. What's the point 'Go and give yourself a hand job'. Sorry for too much information. But really I don't know what to do? Its been like this a lot of times. All I want is a normal time of sex at least. The more time he spends on the porn site the less sex. I've had enough of his 4 seconds sex. Is there any other way for him to come back to his normal sex life?" -Carrie
Your boyfriend may masturbate while viewing porn, but never climax and so he wants to have sex with you to finish off. This is likely the case with Carrie's boyfriend.
Excessive masturbation can also cause tactile (touch) stimulation problems, which leads to needing more and more physical stimulation to reach orgasm.
Ultimately, and ironically, viewing porn can result in an inability to be fully sexually stimulated and satisfied. This causes some men to turn to their partners for sex to finish or even climax again.
Erectile dysfunction can actually be a result of excessive porn viewing as well.
Porn can be consumed in mass quantities on the internet. It's just a matter of how many pics and clips can be swiped through in the available time. While many men will say they just look a little bit, the addictive pull of porn leads many to view for hours at a time.
The endless quantity and lengths of time viewing can ultimately result in a dulling of stimulation, which only increases the desire to look more and more in order to achieve satisfaction.
The lack of complete satisfaction that regular porn viewing produces can lead to needing to have more than one orgasm, or sexual release by masturbation to porn in order to be fully satisfied.
Here's another confused girlfriend's story:
My bf looks at porn all the time. He claims now that he just looks at the screenshots, only watching one or two videos occasionally, but it's everyday! Even after we have sex, he still goes and looks at it. I've told him over and over how this makes me feel and how much it hurts. Yes, occasionally we will watch one together, and I don't mind that. He wants to role play and try new things. Again, I don't mind that. However him watching porn makes me feel like all he wants is a porn star who will do nothing but suck his d*** all night (sorry for the language).

I've told him how it makes me feel like I'm not good enough, like he'd rather be with a person on the movie than with me. This goes for both my mental and physical aspects. He tells me I'm beautiful and sexy and he loves my body but I look NOTHING like them and I don't understand how he can honestly mean that when he gets turned on by women who are thinner and prettier than me. It hurts so bad. We have been together almost 2 years. We have struggled with this, as well as him flirting with other women, having sexually explicit conversations with them, emails, and even physically cheating on me. I want to continue this and yes, he has stopped everything but the porn, which I am grateful for but it still hurts like hell. I don't know what to say or do to make him understand...please help." -Natalie
How To Discuss Porn And Your Sex Life
Every person, their circumstances, and relationship are different. So, the answer as to why your boyfriend watches porn and then wants to have sex with you is going to be different for each guy too.
However, as we've discussed, there are a number of common reasons that can give you a place to start when seeking an answer to this question.
When trying to address this topic with your partner keep the following tips in mind:
Find the right time. When you talk about a sensitive topic timing is important. Beginning a conversation like this when he's busy, about to leave, or the kids are on their way home won't result in anything productive. Choose a time when you're each relaxed, in a good mood, and there's no hurry.


Have an open mind and caring attitude. While you don't want to give the impression that you're fine with sex with you being tied to his porn watching, you also don't want to take an angry approach either. Putting your boyfriend on the defensive means he will put up walls and be unable to hear what you have to say. Be ready to listen thoughtfully and try to understand no matter how distasteful you find the topic.


Know how you want to explain your feelings. In order to have a meaningful talk, you'll need to know what you want to say. Expressing your feelings on a topic like porn and sex can be very difficult, so preparing ahead of time can be extremely helpful. Remember, you're trying to have an open conversation, so you need to be ready to open up about your feelings as well.


Don't be accusatory or judgmental. Telling him he's gross, he disgusts you, that you can't stand his behavior, or anything else that strong worded will cause him to shut down. It's very unlikely that your boyfriend watches porn and then wants sex with you because he wants to hurt you, so yelling at him or immediately condemning him can backfire.


Don't start with demands. "You have to stop now," "I'll leave you if you don't stop," "I'll never have sex with you again," "It's either me or porn." These are all understandable, natural, and justifiable feelings. They shouldn't be what you lead with, however.


Don't create shame. Making him feel ashamed of himself won't make him stop watching porn, it will just make him find ways to do it with more secrecy. So, even though you don't want to make it seem okay that sex with you requires porn or condone it, a cooperative and beneficial result to the conversation won't come from shaming him.
Keep in mind that sex is uncomfortable and difficult for almost everyone to talk about. Add to that the embarrassment, shame, and secrecy that comes with porn viewing, and you've got a really tough subject to communicate about.
So, don't be surprised or dismayed if your boyfriend or husband won't tell you the answer to 'why' (he likely doesn't know himself) or is unwilling to talk about it.
What To Take Away
The relationship between men's sexual desires and their visual response to porn can be more complicated than it seems. Some men may actually feel they're preserving their relationship, because rather than cheating they're "just watching porn."
So, if your boyfriend wants sex only after watching porn keep these things in mind:
His reasons for watching porn and then wanting sex with you can vary. Trying to understand them to some degree will be helpful when working toward change.


In order to get back on healthy ground when it comes to your physical intimacy, the two of you will need to address things together.


Preparing for the conversation and having it at the right time is crucial to its success.


You don't have to accept him watching porn – you and your relationship deserve better.
If talking about this topic is too hard, then get the assistance of a professional counselor to help facilitate the conversation. Unfortunately, many counselors aren't comfortable or experienced in talking about porn either, so be sure to find one that is.
This is a subject most men want to avoid. But if your boyfriend is consistently watching porn and wanting sex with you it may be time to talk to a counselor. If he won't, then talk to one by yourself.
Does your boyfriend watch porn and want sex with you too? Please share your story with others by leaving a comment below.
Editor's Note: This post was originally published September 12, 2018 and has been updated again with new information for accuracy and comprehensiveness.
Looking for More? Check Out These Articles
Read Comments from Others with Similar Experiences Below