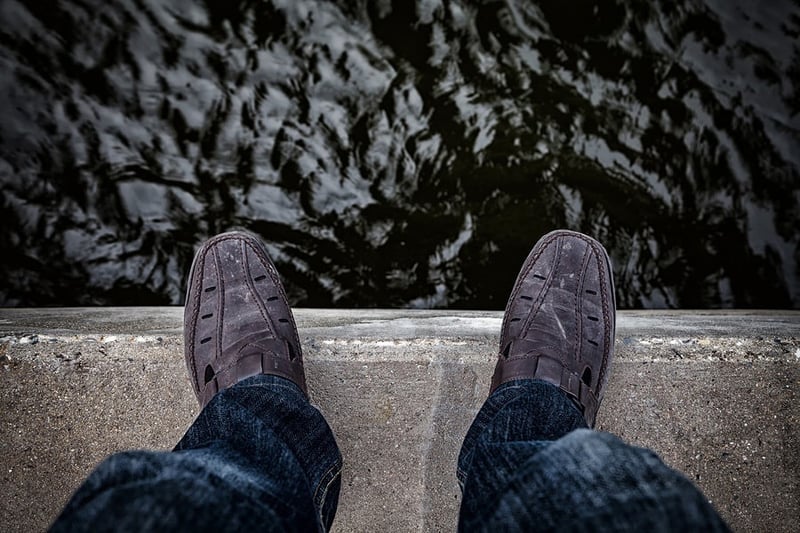 We all got another example of what suicide in men looks like with the death of Robin Williams. One of the unfortunate things about his death, and that of other men, and the depression in them that causes it, is that they really aren't that uncommon.
So let's talk about what suicide in men often really looks like. I had a client last week take some sleeping medication and then follow that up by drinking a bottle of gin (the large handle kind). He claims he wasn't trying to kill himself. Nevertheless, this is what suicide in men often looks like -- an emotionally driven poor decision.
He ended up in the emergency room with his blood alcohol content over 5x the legal limit (+.40), his liver and kidneys shutting down, and doctors saying he could die.
Not all suicide in men is violent, like by gunshot. I've had a number of men I've worked with over the years, intentionally or unintentionally, consumer alcohol or medications, or both, and nearly kill themselves.
The guy above survived. He still insists it wasn't his intent to kill himself. Nonetheless, his wife and kids could have been attending a funeral last week rather than sitting in my office talking about his poor choice of how to cope with how he was feeling.
Everyone who follows the NFL knows Junior Seau -- one of the toughest guys to play professional football. Sadly, in 2012 he became another example of suicide in men when he put a gun to his chest and killed himself.
Here's what a couple of ex-NFL players had to say about Seau, suicide and men:
One of the baddest dudes may have just killed himself ... Yeah, y'all real tough. Life after football is REAL ... grown ass men struggle emotionally ... young boys don't see the end ... it's coming. Life lesson today. RIP Seau," - former Saints and Browns offensive lineman LeCharles Bentley on Twitter after Seau's body was found (Violent Sport Has Its Day of Reckoning).
"This notion of why he didn't seek help was real simple. He was too proud. He didn't have the mindset to seek help because all you're taught when you're playing football is to not show weakness. You have to feel like you're an invincible human being to play the game." Gary Plummer, former teammate of Seau (Tragedies of the 1994 Chargers).
While suicide by men comes in many forms, but all share some common characteristics:
Typically Silent, often unknown until it's too late.
Driven by Pride and Shame which create an unwillingness to be seen as weak in acknowledging feelings and in asking for help in how to deal with them.
Response to Emotions that men don't know how to handle, so they check out.
One of the new risk factors for suicide in men is now middle age. While younger men used to be at the greatest risk, this has changed in the last few decades.
(Robin) Williams was also in a demographic that is particularly vulnerable to suicide . . . White, middle-aged men with medical problems are at the highest risk for suicide, he said. It's not entirely clear why that is, but Dost Ongur, an associate professor of psychiatry at Harvard Medical School and chief of the psychotic disorders division at McLean Hospital outside of Boston, said "this idea of control and virility and being able to deal with the world in a certain way – as that starts to slip away, there's often a sense of loss of control and threat to one's manhood, and that seems to be associated with higher rates of suicide."
Guys, listen to what LeCharles said above, "grown ass men struggle emotionally." It's normal -- and many of us men need counseling to learn how to handle these emotions. I've had to do it, and so have many other guys who are better off for being strong and and brave enough to ask for help.
If you're wrestling with suicidal thoughts, help is available 24 hours a day, 7 days a week at the National Suicide Prevention Hotline (800-273-8255). If you want to talk to someone face-to-face, there are counselors like me available locally and nationally who can help. The key is you have to ask for help.
Suicide in men doesn't end the pain -- it just puts it on other people. Just ask the friends and family of Seau or Williams about the pain they now feel. There are much better ways to make the pain go away.
Editor's Note: This post was originally published on May 19, 2012 and has been updated with new information.
Looking for More? Check Out These Articles
Read Comments from Others with Similar Experiences - Click 'View full post' below or scroll down