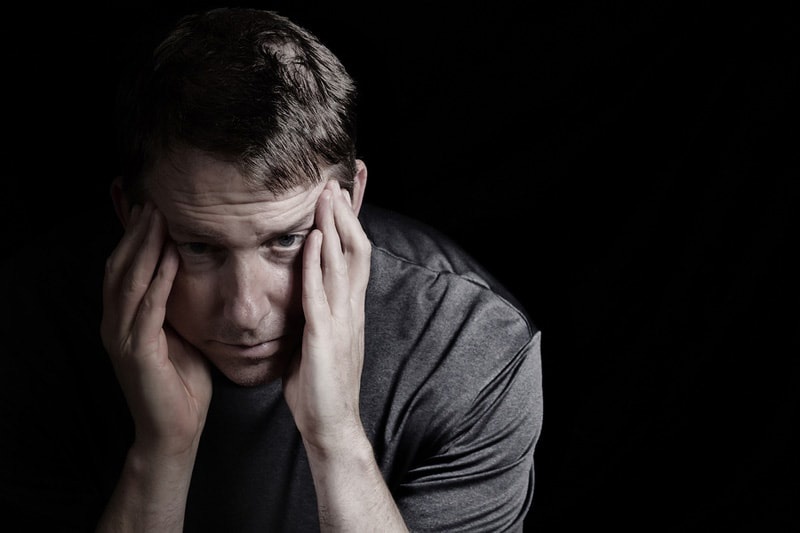 One of the tricky things about depression symptoms in men is that many of the symptoms don't look like depression at all. Not only do most depressed men not look depressed, but they'll tell you they don't feel like it either. In fact, these men usually look and act just like the saying goes, 'men being men.' And 'men being men' can be one of the signs (I'll explain more later on).
In contrast to the hidden depression symptoms in men, women most often look, feel, and act depressed when suffering from depression. Unlike men, women recognize and will admit it to themselves and others too. It shouldn't be surprising then that men are diagnosed with depression at much lower rates than women. Estimates suggest that in the United States women are diagnosed 2-4 times as frequently as men, and in the United Kingdom it is estimated that depression is diagnosed in 7% of women, but only 3% of men.
Even though depression symptoms often go unrecognized in men, men commit suicide 4-5 times more frequently than women. The Centers for Disease Control and Prevention reports that in 2014, 42,773 people in the United States committed suicide -- 79% of them were men. Teenage males account for 90% of completed suicides in their age group and elderly men complete 10 suicides to every 1.11 by women. Most people aren't aware that suicide is the 10th leading cause of death in the U.S., while murder is 17th. Yet suicide gets very little public attention until a high-profile person, such as Robin Williams, dies.
Why Depression Symptoms In Men Go Unrecognized
Men are much less likely than women to admit depressive symptoms, and more likely to have a negative attitude toward seeking help and avoid getting treatment. Thus, the majority of depressed men do not realize they're depressed and never receive treatment. The National Alliance on Mental Illness reports that 25% of adults experience a mental illness each year and more than half receive no treatment.
The clinical symptoms of depression found in the professional diagnostic manual (DSM-5) fail to fully capture men's depression experience. As a result, clinicians and patients alike typically fail to recognize it. Researchers have found more symptoms of irritability, aggressiveness, and antisocial behavior in men with a depression diagnosis than among women. These distinct symptoms have become known as the male-type form of depression.
Typical Symptoms Of Depression In Men
Researchers have proposed that describing male depression as 'masked' is a good way to explain the outward behavior of depressed men and their hidden emotional distress. Rather than acknowledge their feelings, ask for help, or seek treatment when depressed, men will turn to:
Alcohol or drugs
Overworking
Engaging in reckless behavior
Taking excessive risks
Putting themselves in harm's way
Unlike the sadness expected to accompany depression, men become:
Frustrated
Discouraged
Angry
Irritable
Abusive
Male depression can also be hidden by problems with:
Anger
Relationship conflict
Alcohol or drug abuse
Binge drinking
Drunk-driving
Aggression or violence
Road rage
Antisocial and risk-taking behaviors
Sexual acting out
Gambling
Intentional self-harm
Suicide
These depression symptoms in men can be explained as a result of men turning their emotional distress into action. The male tendency toward action and externalization contributes to the acting out of their depressive feelings.
Depression Symptoms In Men Usually Look Like Something Else
Some men are aware of their depressed mood, and even recognize the need to resolve it, but also have the need to manage it themselves in order to feel in control and not be seen as weak. While the short-term, maladaptive coping strategies most often chosen by men, such as those listed above, can provide temporary relief, more frequently they lead to more damaging consequences as well as an increase in depressive symptoms. Sadly, this male cycle of depression often leads to increasingly more self-destructive behaviors and coping attempts.
For example, sexual acting out, such as watching porn or cheating, can be: driven by a need to escape; an expression of anger or control over another; a diversion or a stress reliever; a form or affection seeking; or a form of self-medication that is a response to being depressed. Research has shown a cyclical, escalating pattern of depression in men that is fed by a need to hide symptoms and requires an outside intervention, typically from a significant other, to stop.
The majority of men only get help as a last resort, and often only because they are forced to do so by a partner. In my experience very rarely do men come to counseling for help with depression. Most of the men I treat come for help because a coping method has gotten them into serious trouble -- men who have been caught watching porn or cheating, are abusing alcohol, get too angry, are verbally or emotionally abusive, or are withdrawn and no longer in love. The cases I treat where the man or his partner come the closest to recognizing the possibility of his being depressed are the ones where the complaint is that he's having a male midlife crisis.
Remember that depression symptoms in men don't typically look like depression. They look like a man with anger issues, a guy who's cheating, a man who drinks too much, or one who's having a midlife crisis, in other words, just 'men being men,' but in reality these behaviors are often symptoms of depression in men.
Looking for More? Check Out These Articles
Read Comments from Others with Similar Experiences - Click 'View full post' below or scroll down