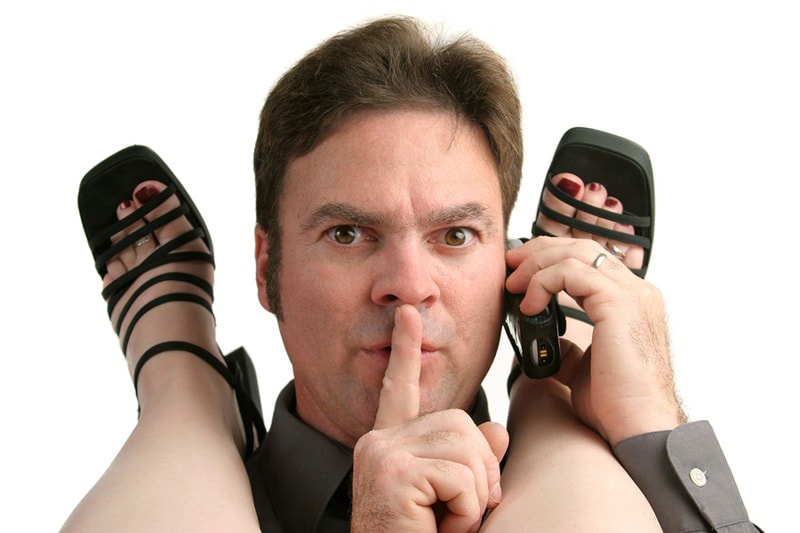 Women regularly contact Guy Stuff with a message that just says -- "husband cheated on me."
Last week one of those women sat across from me in my office.
My husband cheated on me, [bleep] husband cheated on me."
Kiki said as she put her face in her hands and sobbed.
To be fair, either partner, man or woman, can and does cheat. I'm working right now with both men and women whose partners cheated on them.
Back to Kiki's story. She thought Ray sounded weird when he called her at 12:30 a.m. and said he'd be home in a little while. He told her he was dropping off a buddy, but she didn't believe him. Several months later after several other strange episodes, she had him take a lie detector test and she found out the truth -- he had "strippers" in the car with him that night (Side note -- I do not support using a lie detector test to get honesty in a relationship).
Ray also confessed that he had slept with one of them too. He blamed it on being drunk, and on Kiki's anger, and on being unhappy. It wasn't until he faced me that he fully owned his behavior and that he really had been cheating and was sexting too.
So if you're like Kiki, and many of the other women who contact Guy Stuff saying, "husband cheated on me, what should I do?" Here are a couple of suggestions to start:
Be Angry and Hurt. It's normal. It's going to make him very uncomfortable, mostly because it adds to the guilt, but it's healthy and okay.
Manage the Millions of Questions. You're going to have a lot of questions that you want answered. As you try to make sense of having a husband who cheated, you'll seek to have your questions answered as a way to help you understand why. However, it's very important to control your racing thoughts and not let the unanswered questions overwhelm you (you'll need a professional counselor to help you with this).
Remember the Big Picture. "My husband cheated on me" doesn't have to mean the end of your marriage. I've worked with many women who thought so when they first found out, but through lots of work and counseling they discovered that it's possible to have a better relationship after being cheated on.
These are just a couple of things to keep in mind at the beginning of finding out your husband cheated on you. There's so much more to recovering from cheating than this. You really need marriage counseling from a professional counselor to guide and support you. Kiki can testify to that, so can Christine, Melissa, Natalie . . . and all the other women who've gotten help from Guy Stuff.
"Husband cheated on me" doesn't have to be the death of your relationship. It can be, but it also can lead to a better relationship than you've ever had before. The choice is yours.
Looking for More? Check Out These Articles
Read Comments from Others with Similar Experiences - Click 'View full post' below or scroll down