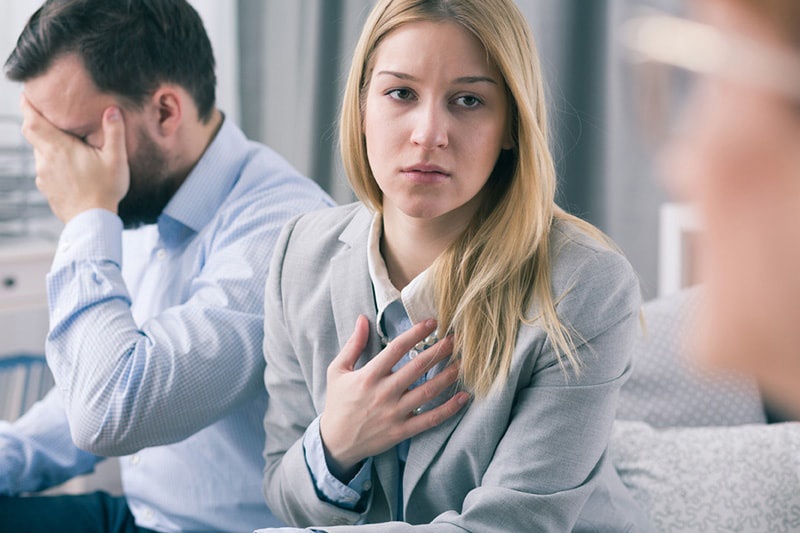 4 Min Read
Contents
Part 2 of 2
Being told by your husband that he doesn't love you anymore is devastating. The crushing pain that comes along with that message can leave you believing that things are hopeless.
Fortunately, for many that may not be truly the case.
Wives tell me "My husband doesn't love me anymore" all the time in couples counseling. Sadly, many husbands confirm this sentiment, claiming not to be in love their wives any longer either.
Often the husbands who feel they no longer love their wives have only agreed to counseling just to check the box before they end things through separation or divorce.
The good news is that for many couples those feelings of being out of love are just a complicated mask for problems that can have a resolution. And seeking counseling gives them the opportunity to learn what that can look like.
Why Men Fall Out Of Love
It's not unusual for many husbands (wives too) to feel like they just aren't "in love" with their spouses anymore.
Falling out of love really shouldn't be that surprising to anyone.
Change is a part of life, and that includes changes to relationships. Those changes inevitably involve the way spouses feel toward one another and this can mean no longer feeling in love with our partners.
What many don't realize is that these changes in the love they feel can be a normal process within a long-term relationship and doesn't have to mean the end.
Often people assume the infatuation and excitement they feel at the beginning of a relationship will be the way it feels forever. That's simply not the case.
Those feelings eventually mellow and change. Too many people see those changes as a bad sign and mistakenly think that their love must be fading.
In addition, life and all the stress and busyness that comes with it can pull couples apart and make the feeling of love seem nonexistent.
Eventually, frustration and disillusionment can set in, leading to a lack of intimacy. For men in particular, issues with intimacy can be tied directly to feelings of love.
What To Do If Your Husband Doesn't Love You
As partners grow and change so do the relationships in which they're involved. As those changes occur couples are doing one of two things -- either growing together or apart.
Often the natural forces of life are going to cause us to grow apart, unless we do things to counter that process.
So, is there anything you can do to change that?
Yes!
Here the final things you can do to get your husband back in love with you:
Love

UNCONDITIONALLY.

(find out what I mean in the first article on My Husband Doesn't Love Me)


Show RESPECT. (read more about this in the link above)


Provide POSITIVE FEEDBACK. Feeling important, valued, and validated are some of the key reasons for men having affairs and falling in love with someone else. This is something that without conscious effort can disappear from marriages over time. Then another woman comes along and starts to offer it and... (well you know the rest of the story).

Think back on when you were first dating and how you both worked hard to make sure you each understood you were valued and important to the other. Get back to doing this again.


Continue to

DISCOVER.

It's crucial to discover things that you're doing that contribute to the lack of love in the relationship. This may take help. There are things that you may be doing that you don't even realize are adding to the problems and making things worse. A marriage counselor is an excellent, objective expert to help you with this, especially a marriage counselor who knows men.

This

doesn't always have to

mean losing weight or changing your hair, but rather changing how you interact with him, respond to him, or speak to him.


Practice PATIENCE. Most partners don't fall out of love overnight, it happens slowly over time. Falling back in love happens the same way. So, be sure to give some time for the love to come back.
I hear from a lot of women who really struggle when they read these suggestions. They feel so unloved and rejected by their husbands that my recommending they love him when he doesn't love them seems wrong, unfair, and impossible.
I totally understand how they feel. But if you're saying "My husband doesn't love me anymore" then you've got 2 choices -- either accept that he doesn't love you or do something to change it.
I'm not recommending you do these 5 things forever without receiving any love from your husband in return. I'm simply recommending that you be the first to start putting love back into your marriage (if you feel you're already doing this, then dig a bit deeper and try some new approaches).
What To Take Away
Feeling like your husband no longer loves you can make many women shutdown and begin to build walls around their hearts. Hearing "I don't love you anymore" directly from your husband can accelerate that process and make it harder to stop drifting apart.
And I understand that being told to show love by using the steps above to someone who doesn't reciprocate seems unfair and can create resentment.
So, if you feel your husband doesn't love you anymore, keep the following things in mind:
Many mistake changes in love for the love being gone.


For men, changes in the relationship – especially intimacy – can lead them to feel they've fallen out of love.


Putting some new effort toward showing love can help your husband rediscover his love for you.
If you're saying, "My husband doesn't love me anymore," you can choose to accept it and move on, or try to save your marriage. But isn't it likely you'd regret not trying?
Give the suggestions above a try for 90 days and see what happens. What have you got to lose?
Editor's Note: This post was originally published May 4, 2010, updated on June 29, 2014, December 12, 2019, and has been updated again for accuracy and comprehensiveness.
This is the second article of two on 5 things you can do when you feel my husband doesn't love me anymore. You can read the first 2 to do's by checking out Part 1: My Husband Doesn't Love Me - 5 Things You Can Do About It.
Looking for More? Check Out These Articles
Read Comments from Others with Similar Experiences Below