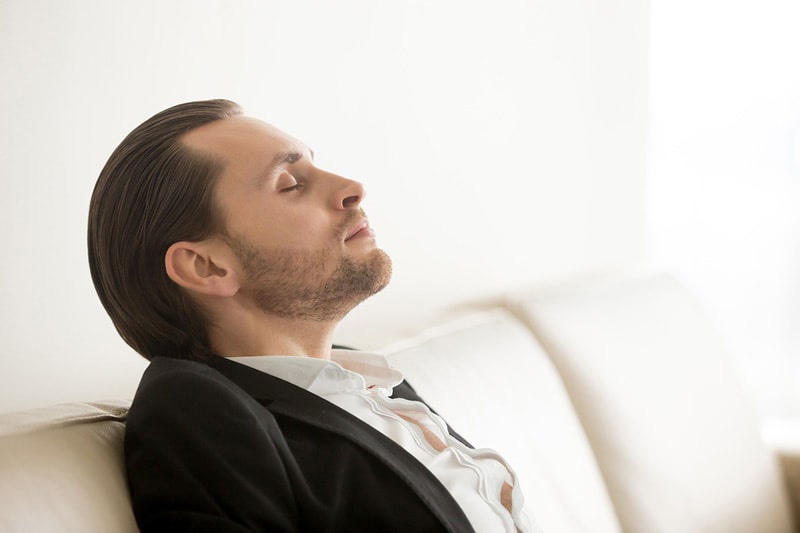 Angry people can be hard to avoid. Sometimes it seems like they're everywhere (and I say that knowing I can be one of them at times). We all need to have a few anger management tips so we can handle being around an angry person.
Some of us are even in intimate relationships with people who are angry a lot. A woman asked me yesterday in counseling for anger management tips to deal with her husband when he explodes at her or their kids. So tips for managing anger aren't just needed by those of us with anger problems; those who are around us also need them too.
Tips for anger management can sometimes seem pretty simple, but often it's the practice of them that makes them difficult. The following is one of those kinds of anger tips. Below is a post from our social media page about dealing with an angry person.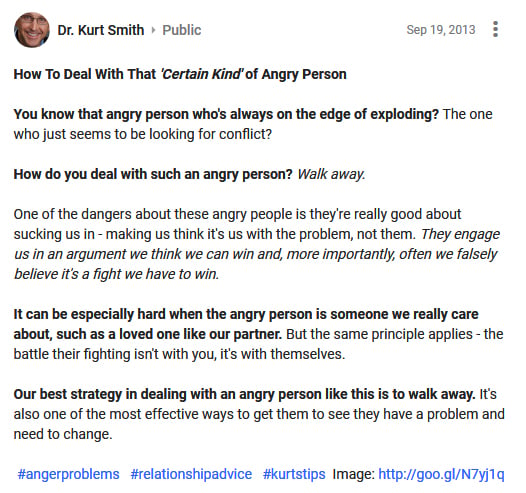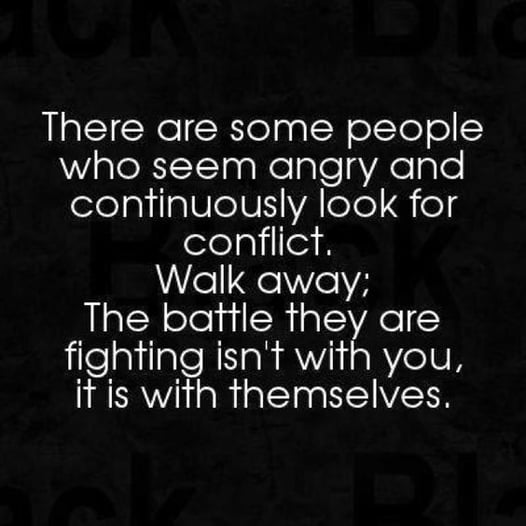 What can make applying anger management tips so hard is that it's so easy to get sucked in. The wife I described above feels she needs to step in to protect her kids, and in some instances she's right. The problem with that response though is that it feeds and rewards her husband's anger.
So what do we do? We need to remember the above principle about angry people - the battle they're fighting isn't with you, it's with themselves. Walking away takes away from them the distraction of the fight and the option to blame someone else for their feelings.
Men most commonly come to me for anger management help when they're forced to see the destructive consequences of their anger. And they see those results most clearly when they aren't distracted or able to excuse them.
The next time you have to deal with angry person, remember this anger management tip: the best thing you can do for them and you is not to give them an outlet for their anger. Let them sit with it. So just walk away.
Please share your experiences or thoughts in a comment below. If you like this post, you can sign-up at the bottom of this page to get notified of each new post. You can also follow me on Facebook or Twitter as I post weekly relationship and self-improvement tips just like this one.
Looking for More? Check Out These Articles
Read Comments from Others with Similar Experiences - Click 'View full post' below or scroll down