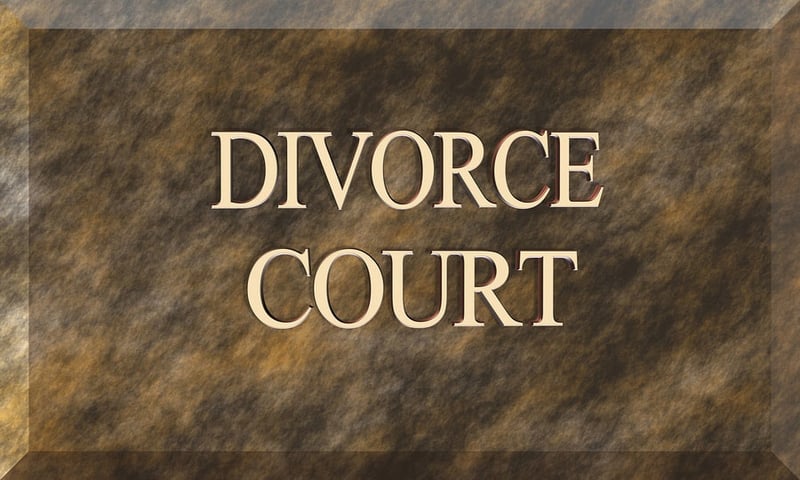 Getting divorced is a painful and complicated process. It's also an extremely emotional one. Because of this men need to get proper divorce advice. Without it not only can things be even more difficult, but it's also very easy to make big, costly mistakes.
If you're not sure what I mean, take a look at the stories below. They should be considered cautionary tales and important divorce advice for men - from the "really stupid things people do" files.
Darrell
Darrell and Amy got into it again. It doesn't matter over what - What matters is how angry at each other they got. For months each of them has been threatening getting a divorce. During the fight, Darrell told Amy that if she wanted a divorce, he'd give her a divorce. In a rage, the couple jumped in their cars and raced each other to the courthouse. Darrell ran up the steps and waited for Amy. Fortunately for him, she couldn't find a parking space, and while searching to find a place to park Amy came to her senses and drove off. (This is a true story from a couple that came to Guy Stuff)
So what can we learn from Darrell? Here's some very valuable divorce advice for men:
1. Don't Make Emotional Decisions
Darrell decided to get a divorce while in a state of rage. The last thing you want to make an emotional decision about is getting a divorce. This is such a life altering choice that it should only be made in a non-emotional state and only after much consideration of the consequences, as well as following #2 and #3 below.
2. Have a Plan
Darrell had no plan. He didn't know what he was going to do after filing the petition for divorce (only step one of many, many forms and steps). Here's the BIGGEST divorce advice for men SECRET to always keep in mind: The most important thing in a divorce is how you come out of it. In order to come out in the best position possible, you need to be strategic and smart about how you manage each step of the process.
3. Get Professional Advice (but not necessarily from a lawyer)
Darrell hadn't talked to anyone but his brother. Everyone has 2 cents of advice to share about how to go through a divorce. Nearly all of it is going to be unwise and very biased – neither of which is in your best interests. The best thing you can do before starting a divorce is talk to a professional who helps people through divorce. But this doesn't mean only a lawyer. Lawyers will only help with the legal and financial aspects. However, the emotional, psychological, and behavioral affects and responses are crucial to address too in order to have a successful outcome. Divorce counseling and advice from an experienced therapist with an understanding of divorce can be invaluable.
Joe
Joe decided to stop for a beer after work one day. The bar he chose was right next door to a hotel. As he was leaving he saw his wife's car parked in the parking lot of the hotel. They had been having problems and he was already worried that she might be cheating – this confirmed it he thought. So in a fit of anger Joe wrote "DIVORCE you cheating B@#CH" on her windshield, and then went back into the bar to "close the deal" with the girl he had been flirting with.
When the dust settled and the truth came out, it turned out that Joe's wife had been at the motel turning in an application to be a housekeeper. Some of their biggest fights were about money and she was looking for a second job to try to help make things better.
Lessons from Joe? More advice for men contemplating divorce:
1. Don't Jump to Conclusions.
When things are already difficult in a relationship it's easy to see the worst in every situation. Before you jump to the wrong conclusion, talk to your spouse calmly, respectfully and without allegations or threats. The truth may very well be not what you think.
2. Never Think Cheating is the Answer.
No matter what's happening, you will not make anything better by stepping outside your marriage, even when it's ending. In fact, it will make things exponentially worse. Cheating before or during a divorce is a big mistake. The hurt and anger it causes just multiplies the negative feelings already there from the broken marriage and makes getting through a divorce harder and more costly.
Divorce is extremely hard, even if you've been through it before. Don't be a Darrell or a Joe, and be stupid. Get some divorce counseling to help manage your emotions, get help developing a plan, and to learn a professionals' advice on how to come out of your divorce in the best shape possible. We men can be a bit stubborn and think we know what's best at times when we really don't, so listen to this divorce advice for men from someone with experience -- you'll thank me for it later. Darrell did (he wised up and came in for counseling help with his divorce).
Editor's Note: This post was originally published December 17, 2011 and has been updated with new information for accuracy and comprehensiveness.
Looking for More? Check Out These Articles
Read Comments from Others with Similar Experiences - Click 'View full post' below or scroll down