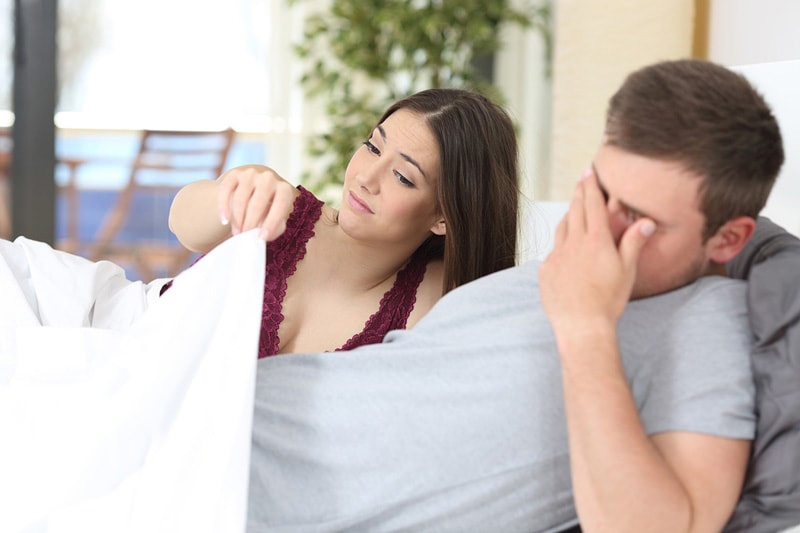 Reader Question:
My husband admitted that he has erection problems. We have been married for 6 years and during this time we only had sex about 20 times. During sex he will loose his erection and blame it on his weight. But he is not interested in losing weight or use alternative medication to assist with his erection problem. I have suggested he go for counseling as I feel that there are emotional issues involved due to his previous wife's cheating on him. I have never cheated, however at this stage I am even considering this as I am only human." -Ashley V.
My Answer:
I've worked with a number of men with erectile problems. You're correct in thinking that there maybe emotional issues affecting your husband. Erectile dysfunction almost always has a psychological component -- being depressed, guilt, worry, stress, and anxiety can all be contributors.
The repeated loss of an erection also compounds the problem since most men worry obsessively that it will happen again. This pattern typically leads to chronic problems such as loss of sexual desire and avoidance of sex. Sounds a lot like your marriage with your having had sex only a couple of times a year.
Read this article about a man who has no sexual desire for his future wife to understand more about what happens for men like your husband.
If your husband won't take care of himself, by either losing weight, taking medication, or going to counseling, then you've got to find a different strategy to deal with this other than having an affair. After all, if you're correct in your thinking that his previous wife's cheating may be a factor, which is likely to some degree, the last thing you should consider is doing the same to him again.
Here's what to do:
Find some things that motivate him. Obviously it's not sex; how about food? Do you cook meals for him, do the grocery shopping, or go out to dinner with him? These are privileges you can offer as rewards and consequences for his taking some action to deal with this.

Tell him he's going to lose the privilege if he doesn't take some action. Give him a minimum action he needs to take, make it small to start, along with a deadline.

If he doesn't follow through, take away the motivator. Then pick another motivator and repeat the process. Keep taking privileges away until you get some action.
-Kurt Smith, Marriage Counselor for Men
Got a question you'd like to Ask a Marriage Counselor? Click here to submit it and I'll ;answer it in an up coming post. Be sure to Sign Up at the bottom of the page so you'll get my answer as soon as it's published.
Looking for More? Check Out These Articles
Read Comments from Others with Similar Experiences - Click 'View full post' below or scroll down