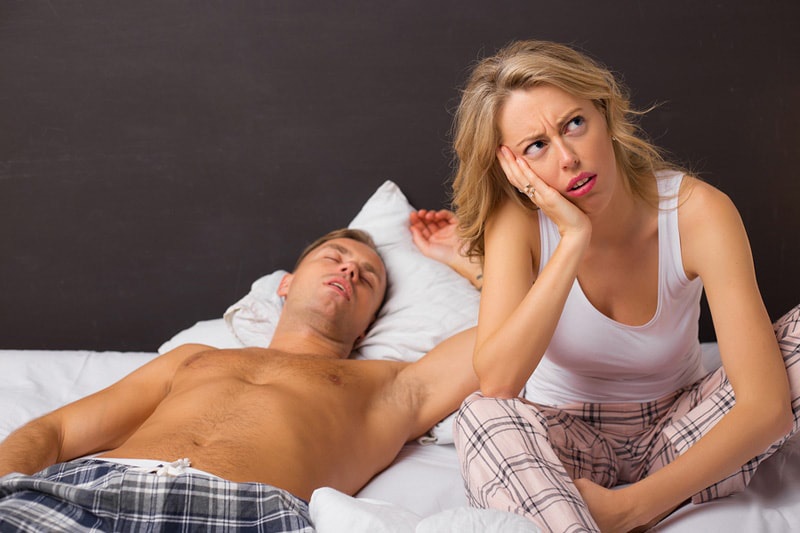 Reader Question:
My husband says he has a low sex drive. I'm a female in my late twenties and recently married. Right before my husband and I got married, I found out he had recently done things that were unfaithful with other women (not sex, but dates, sexual text messaging, visiting personals websites). When I confronted him, he said he did those things because he was essentially scared by our pending marriage. There was no pressure for us to get married, he had asked me without me ever suggesting it, and after what happened I suggested we postpone the wedding and he insisted we not. It was a struggle, but we decided to stay together and he has tried ever since to show me he's a faithful husband.
My problem is that after only eight months of marriage, my husband won't have sex with me. This was a bit of a problem before we were married, but now it's down to us only having sex once every two months, if that. I am in great physical shape. I get hit on and asked out a lot by men of all ages. I dress cute and respectable. I'm a hard worker, take good care of myself, and I'm intelligent. I've always been open to whatever appeals to my husband (which is still a mystery to me). I feel my husband and I have respect for each other and he's very affectionate. He says he's more attracted to me than anyone. I don't understand why my husband won't have sex with me. He says he just has a low sex drive.
I'm trying to accept this while still trying to overcome my fear of his interest in other women. Once in a while I wonder if this whole time he's been having an affair and that's why my husband won't have sex with me. I know only he could really tell me if that's the case, but how should I pursue this? I've tried talking to him numerous times and it just embarrasses him and makes me have low self esteem. One last note: We saw a commercial about "Low T" (low testosterone in men) and low sex drive and he said, "I must have that." and when I told him to look at the website he said it would be embarrassing." -Gloria C.
My Answer:
Low sex drive in men is more common than most people think. But it has less to do with biology, like low testosterone, and more to do with the relationships men have with the women in their lives.
I often hear men say something like this, "I just don't want to be anywhere near her." Not surprisingly, they also have a low sex drive -- at least towards her. Obviously, your husband hasn't lost sexual interest in all women, since it's only been a few months since he was sexting other women.
Stop getting distracted by what are most likely excuses - scared of commitment, low sex drive, low testosterone, etc. Make an appointment to see a marriage counselor and get some help. I can guarantee you there are some things you can do to make yourself more attractive to him. You just need some expert help discovering what to do. If he won't go with you to see a marriage counselor, go without him.
-Kurt Smith, Marriage Counselor for Men
Got a question you'd like to Ask a Marriage Counselor? Click here to submit it and I'll answer it in an up coming post. Be sure to Sign Up at the bottom of this page so you'll get my answer as soon as it's published.
Looking for More? Check Out These Articles
Read Comments from Others with Similar Experiences - Click 'View full post' below or scroll down