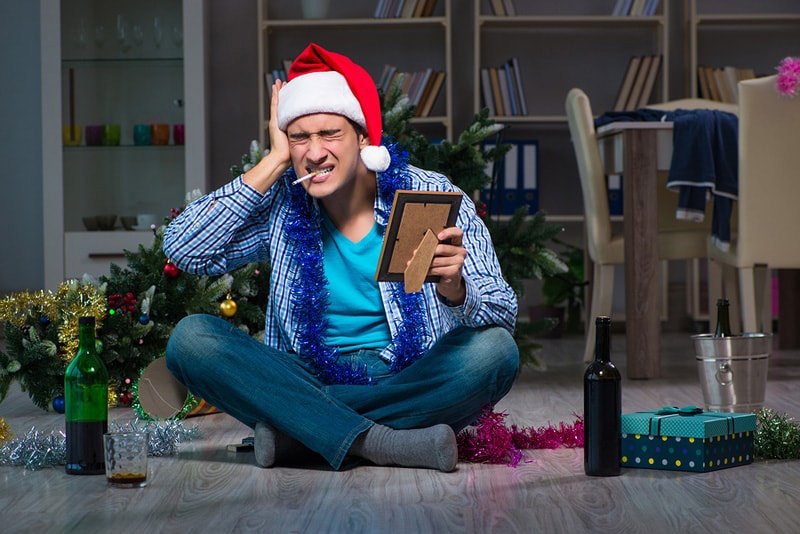 Hey guys. Here's a friendly reminder from the relationship clean-up department, also known as counseling for men. Think twice about the behaviors you choose, especially this time of year. We hear from men everyday desperate for help in putting their marriages and lives back together after they've messed up, so here's a list of 3 of the most common risky behaviors where guys slip up.
WARNING: Every January we see a spike in the requests we get for help with these 3 struggles, so let this be a warning from your potential "Ghost of Christmas Future" and take heed.
Anger. Anger management expert W. Doyle Gentry, Ph.D., whose work was featured in the movie Anger Management, reports that most domestic violence incidents occur between Thanksgiving and January 15.
Not surprisingly, a regular occurrence this time of year at "Guy Stuff" Counseling is for us to hear from a number of men who need counseling because of a domestic violence arrest. And many times relationship abuse/violence occurs when anger gets combined with alcohol.
Also be aware that increased contact with family can be stressful, and when mixed with the stress that already comes with the holidays, can create a volatile mixture for many of us.
Affairs. Tiger Woods' Thanksgiving holiday this year ought to be warning enough for all of us.
If you're not having an affair, good; but nevertheless be careful with these circumstances -- holiday parties (drinking + lowered inhibitions + everyone's feeling good = look out!); feeling lonely (the holidays can be a lonely time for many of us, even though we may be married and surrounded by family); social networking (it's the easiest way to hook up now days).
If you're in the middle of an affair, be careful not to use it to escape the holidays. By its very nature, an affair is a form of escape. But I've worked with guys who've gotten themselves through uncomfortable family time by knowing "she" is waiting afterwards. Don't rob your family of experiencing all of you this year.
Alcohol.What I call the socially accepted medicine of choice in America. Be very careful, this one can increase the risk of the other two occurring (anger and affair). Alcohol is hard to say no to this time of year, but it also increases our likelihood to make other mistakes. Telling ourselves that we've got control of our drinking is one of the most common signs of a problem.
If you want to know if alcohol abuse might be a problem for you, try asking someone who knows you and isn't afraid to tell you the truth (be open to the idea that you might have a hard time finding someone who isn't afraid to tell you the truth).
What do you think of these risks? Would you add another? Leave a comment.
Looking for More? Check Out These Articles
Read Comments from Others with Similar Experiences - Click 'View full post' below or scroll down