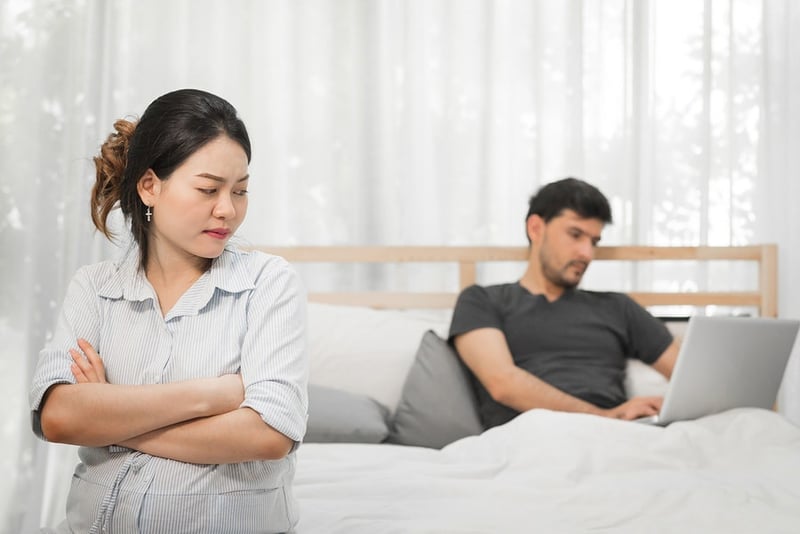 3 Min Read
Contents
There's no getting around it, social media is here to stay. Twitter, Instagram, SnapChat, and especially Facebook figure into most of our lives on a daily basis now. In doing so these platforms have had an impact on many aspects of our day-to-day lives, including our relationships. But what happens when Facebook causes relationship problems, and those problems threaten to blow up our happiness?
There are some great things about platforms like Facebook, right? We've been able to share our lives, keep families updated, and reconnect with old friends – that's all pretty cool.
But there is a dark side too. Facebook and the like have also created new problems for relationships and challenges couples have never had to face before.
What Facebook Relationship Problems Can Look Like
At Guy Stuff we see couples in counseling each week who are facing problems either created by social media or exacerbated by it.
So, what are typical Facebook relationship problems? Let's take a look at Mitch and Jenn for an example.
Mitch and Jenn are generally happy together. They get along well, have similar interests, and say they have an incredible sex life. In fact, she describes it as "magical." She also says it's one of the things that keeps bringing them back together.
The thing that keeps ripping them apart, however, is Mitch's secret life on Facebook. Jenn's not a part of his Facebook life and it's killing their relationship.
As a couple they've been on and off repeatedly for over a year and a half. But when they're together Mitch doesn't change his profile from single, he doesn't post a picture of Jenn on his page, and he doesn't tell anyone (i.e. other women friends) that he has a girlfriend.
As a result, Jenn doesn't trust Mitch on Facebook and questions if he is faithful. Facebook relationship problems can take many forms, but at the core of almost all of the problems is trust.
Making it even harder for Jenn to trust him is how obsessed and secretive Mitch is about Facebook and the relationships he has online with other women. Mitch tells her the women are just work acquaintances and innocent friends from the past, but she doesn't buy it. Especially since Mitch won't ever get on Facebook when Jenn's around.
Mitch, of course, insists that he's not hiding anything or cheating, and everything is innocent. Afterall, he's not sleeping with any of these women. But sex isn't the only way cheating can occur.
What Facebook makes very easy are things like micro-cheating and emotional affairs. These are forms of infidelity that can be difficult to recognize because there's no real physical interaction, but they're just as detrimental – perhaps more so – than physical affairs.
Things like implying you may be available romantically when you're not, posting suggestive pictures designed to gain romantic interest or appreciation (i.e. thirst trapping), or having private message conversations with other women (or men), all step over the line.
Facebook allows flirtation and connection to others in what seems like a safe, arms-length manner. But if the result of these connections is to break down trust in a relationship and allow someone outside the relationship to fulfill needs typically met by a partner, then it's clearly going to cause relationship problems.
Can You Use Facebook Without Causing Relationship Problems?
In short, yes. But you have to be clear and intentional in your efforts not to cross certain boundaries.
Facebook and other social media platforms like Instagram, SnapChat, and Twitter have created a wild, wild west environment for relationship problems. Everything from reconnecting with your high school love to meeting someone new in a different country is possible now. Exciting – yes, good for your relationship – no.
So, today in order to have a relationship that's happy, healthy, and respectful you really need to have a conversation about how social media figures into each of your lives. Some people use it very rarely or for the sole purposes of something like business marketing, but for many of us it's much more than that.
A good rule of thumb in any relationship is that if you feel like you have to hide something from your partner then you probably shouldn't be doing it.
Jenn came to Guy Stuff for some help with the problems Facebook was causing in her relationship. And our counseling for men has made it easier for Mitch to be willing to participate. For the past few weeks we've been working on changes they both can make to rebuild trust. And Mitch has even been willing to give up his social media life and close his Facebook account to help.
If you've got a partner with a destructive (or secret) life on Facebook, get some help before Facebook relationship problems kill your relationship like they almost did for Jenn and Mitch.
Editor's Note: This post was originally published December 04, 2010 and has been updated with new information for accuracy and comprehensiveness.
Looking for More? Check Out These Articles
Read Comments from Others with Similar Experiences Below