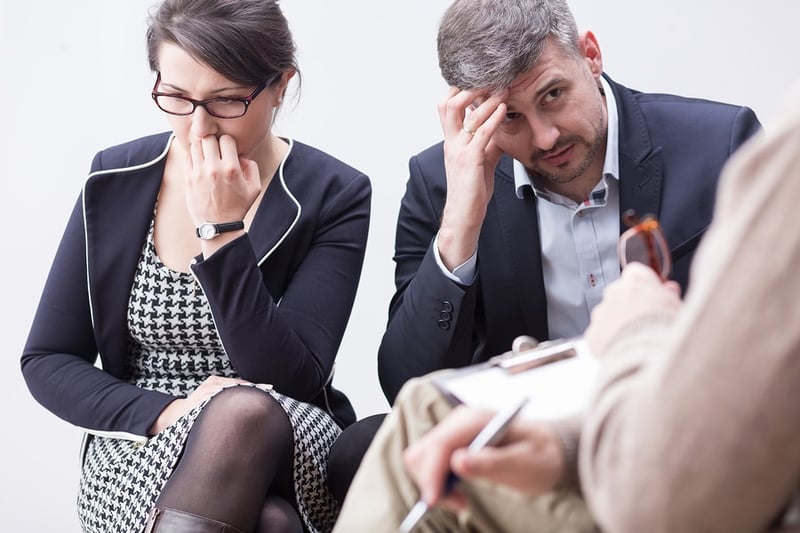 Almost everyone feels uneasy about going to couples counseling. That's understandable too. After all, you don't know what's going to happen, what the counselor will be like, or what your partner is going to say about you.
So here are some descriptions of what couples counseling is like from other men and women who've been there.
LIKE TALKING WITH A BUDDY Counseling is like sitting in your family room with your best friend talking about the game. Only the game we talk about is the one you play with your partner. My office looks like a comfortable den too. There are a couple of chairs and a cushy sofa -- although no body lays down on it.
One guy who came to my counseling for men said his wife thought we just sat around, talked, drank beer and ate peanuts because of how relaxed he was after each meeting. Well we never had any beer, but the atmosphere is that comfortable. A regular comment I hear when people are leaving is how much lighter they feel afterwards.
THERE'S NO VOODOO I've got years of experience counseling men and their partners, so I know the typical problems and how to sniff them out.Coming to counseling is like taking your car to a mechanic. Like a mechanic, when you describe the problems I usually know what to look for and how to go about fixing them.
My approach isn't mysterious. Just like a mechanic, I use specific tools depending on the problems you want to fix. There are exercises we do that help us develop solutions. We follow an action plan to put those solutions to work and to test them to see that they're really working. After all, our goal is to get you the changes you want.It's a formula that men in particular, but women who like to cut to the chase too, say they really like.
YOU GET SOMEONE ON YOUR SIDE When most couples finally come for couples counseling, the disagreements are so frequent that they need a referee just to talk to each other. Part of my job as a couples counselor is to be a mediator. I will bridge the gap (or canyon) between the two of you.
You probably feel that your partner doesn't understand you, or even care. When you come to couples counseling, you'll have someone who understands what it's like for you, and will help your partner to understand that too. I'll also do the same for your partner.
Unlike some couples counselors who clients have told me they felt favored one partner over the other, in my style of couples counseling both clients say they feel understood and supported by me.
Give couples counseling a try and you'll find out there's nothing to fear after all.
Looking for More? Check Out These Articles
Read Comments from Others with Similar Experiences - Click 'View full post' below or scroll down