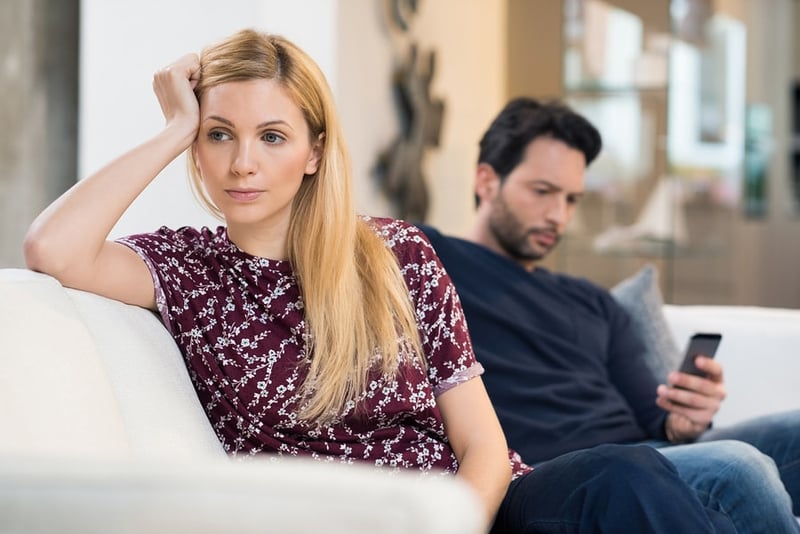 There are many things that cause stress in a marriage -- money, kids, scheduling conflicts are but a few. One that seems to often get overlooked, however, is football and it's time consuming cousin, fantasy football.
For many men Sunday (and Monday and now Thursday) football is a cherished pastime. As fantasy football leagues have become more and more popular, football season has become a not only a time suck, but also a source of great tension in many marriages.
See if the situation below sounds at all familiar.
Diary Of A Marriage During Football Season
Sunday Tim spent 10 hours on the sofa watching football. He not only had the TV on, but a computer, iPad, and his phone, streaming multiple games and watching scores. All of this to track his fantasy team. His wife, Samantha, on the other hand, dealt with kids and went to Costco to do the grocery shopping.
Sound fair?
When I put that question to Tim, he shrugged and didn't have a problem with it. But when asked the same question, Samantha sure did. Although after 9 years of marriage, she says even though she doesn't like it, she's pretty much accepted that this is the way it's always going to be.
Even though she says she's accepted Tim's football obsession, last Sunday her frustration still flared up when she left for the store. It became too much as he ignored the house, the kids and her, and she angrily yelled at Tim as she went to do the shopping, "I'm gonna spend a lotta money!"
And that was just week #1 of the NFL season. What do you think Tim and Samantha's marriage is going to look like by the time the playoffs start? I'm fairly certain it won't be pretty.
Football season = Argument season.
Why Football Can Cause Such A Problem In A Marriage
Fall is a great time to be a sports fan. However, it's also a time when marriage problems can really get exposed. The truth is that football itself isn't the issue, it's the problems that already exist in the marriage that become highlighted during this time.
Just because you're a couple doesn't mean you don't have individual interests. In fact, having your own hobbies and interests is healthy as long as it doesn't take away from or damage your relationship. When those hobbies begin consuming excessive amounts of time and mean you neglect the needs of your partner, however, they become a problem.
Many couples are like Tim and Samantha, they've never talked through and agreed on a plan for how family needs will be balanced with each one's personal wants. The lack of an acknowledged plan is a breeding ground for resentment, anger, and hurt to grow.
Football season has brought out another problem in Tim and Samantha's marriage, their inability to negotiate conflicts. Many couples lack the skills to talk about differing viewpoints with understanding, respective and love.
The ability to discuss their own needs, as well as understand the needs of their partner, is key to resolving their problems and making it through football season. Unfortunately, for many couples, these communication skills are lacking or easily forgotten as anger and resentment take over.
Is There A Happy Balance Between Football And Marriage?
So, can Tim enjoy watching football and still be a partner with Samantha in keeping the household running? Yes, he can, even though he told me he doesn't see how it's possible with all that he thinks she wants him to do.
He can start by trying to consider things from her perspective. While Tim feels that Samantha is nagging him and trying to ruin something he enjoys, she sees it very differently. If he can work to understand (even though he disagrees) that she feels he gets an awful lot of time to have fun and relax while she's stuck with the chores, it will go a long way to helping them find a compromise.
And can Samantha use a better method to let Tim know she's not happy and needs help than spending more money? Yes, she can learn to do things differently too.
Trying to send a message using threats, insinuation, or even something like the silent treatment is a form of manipulation rather than communication. Approaching conflict this way will only exacerbate the existing problems and create new ones. A better way to deal with her frustration would be to have a frank and calm conversation with Tim at a time he's not watching football and give him a chance to understand her perspective. And for her to try and understand his.
Samantha kept asking herself, "What can I do to save my marriage?" If you are too, get some help. If your marriage doesn't have a plan for deciding how family chores will be balanced with personal activities, create one. If you and your partner can't have better communication in your marriage, even about difficult topics like fantasy football, then learn how. Professional couples counselors are available to help you learn how to do both.
Editor's Note: This post was originally published October 17, 2009 and has been updated with new information for accuracy and comprehensiveness.
Looking for More? Check Out These Articles
Read Comments from Others with Similar Experiences - Click 'View full post' below or scroll down