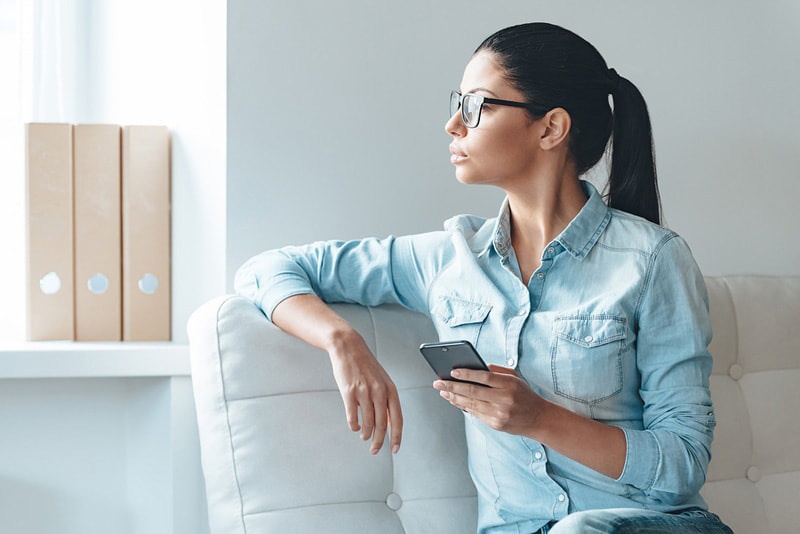 Ghosting in a relationship is really like the ultimate silent treatment. It's not exactly new, but over the last few years, it has become a far more prevalent way for us to handle the ending our relationships.
The combination of phones, apps and online dating has made meeting people less personal, and therefore less worthy of taking the time to communicate how we feel.
What Exactly Is Ghosting, Anyway?
Ghosting in a relationship is cutting off all communication with whomever you're with via every channel there is until the person gets the message it's over. Because the shut down of communication is so complete, going from texting throughout the day to suddenly being ghosted can be very confusing and hurtful. The ghostee usually has no idea what's happening or if they've done something wrong.
Charlize Therone's break up with Sean Penn made ghosting in a relationship front-page news. It was reported that she ghosted him in the middle of the Cannes Film Festival, and that he was mystified as to what was happening (she later said in an interview that she had no idea what ghosting was and that wasn't what happened).
Technology makes ghosting our relationships and partners so easy! It can be easy to view someone as a mere profile if we've met them online, rather than someone with feelings. By ghosting we can hide behind our phones without ever taking responsibility for hurting someone we supposedly cared about or, even worse, our own selfish behavior.
Ghosting someone in your life shouldn't be confused with cutting off all contact from someone if you see the signs you're in an abusive relationship. That's something else entirely.
Ending A Relationship By Ghosting Won't Make It Easier
Breaking up is hard to do. It's hard to do something that will potentially hurt someone's feelings or cause a confrontation. Ghosting in a relationship seems like a win-win: no uncomfortable conversation, no argument, no tears.
Ghosting our partner may not be the easy way out one thinks. If you've been with your partner long enough they know where you live and work, you may have mutual friends, etc. Our former partner could easily show up at work, or be at the same event as us, and make a scene demanding an explanation. It doesn't get more awkward and uncomfortable than that!
An honest conversation would prevent that, and in the long run, may be easier in handling the situation. Even if you hadn't dated more than a few times and have no emotional investment, it's better to just communicate that you're not interested.
Ghosting in a relationship is really a lose-lose situation. It's a total lack of consideration and respect for that person, and tells them that they weren't even worth the effort of an honest conversation. As the "ghost," one looks immature and cowardly, while the "ghostee" is often bewildered and has no idea what went wrong.
It isn't just to our romantic relationships getting ghosted, either. People get ghosted by their friends or even ghost their own parents if the relationship is particularly bad. It's even happening in the workplace as well, when colleagues disagree, one person may win a project someone else wanted, and some people literally just walk away from their jobs completely shirking their responsibility to give notice.
How Do We Deal With Ghosting?
Ghosting is not something one can do and simply say they are "sorry" for later. It's sending a clear message that the person isn't important enough for us to take the time to break up with them properly.
Kurt said:
"Most of us want to avoid conflict and ghosting is usually motivated by that desire. But there are better ways to prevent conflict while still being considerate and respectful. This is a good time to push through our fears and practice the Golden Rule of treating others the way we would like to be treated."
If you've been ghosted, try not to take it too personally, and keep in mind that it really is them and not you. You're still worthy of love and affection.
If you're the one ghosting in a relationship, it's easy enough to stop and reconsider. Rather than leaving someone wondering why you've disappeared from the relationship, take a few minutes of being uncomfortable and say something, or even send a text if it was just a few dates. It can save both of you a lot of potential grief, and give you both the dignity and closure everyone needs and deserves at the end of a relationship.
Looking for More? Check Out These Articles
Read Comments from Others with Similar Experiences - Click 'View full post' below or scroll down