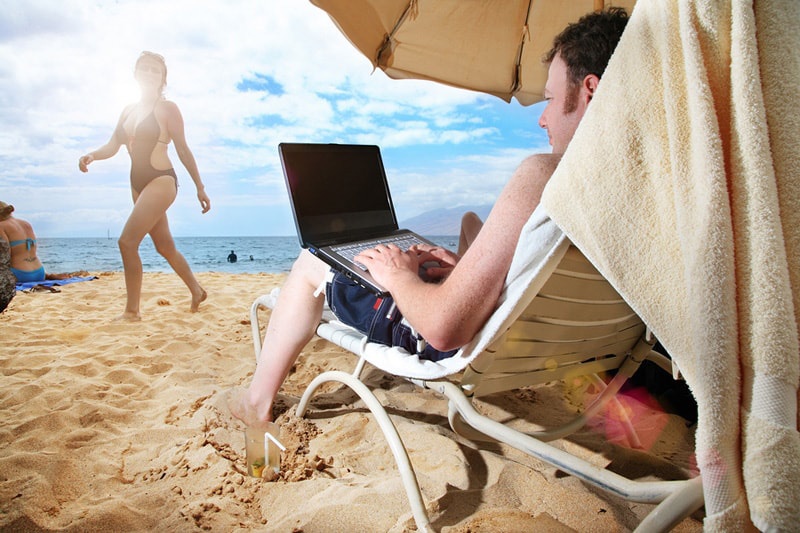 Part 1 of 3
Understanding men isn't easy. Here's an example:
The water's blue, the waves are lapping. Geez, it's hot. Do I have enough sunscreen on? Why did I wear this bathing suit? How long have we been here? I wonder what's happening at the office. Have they finished that project? Where is that cell phone? Wait, don't tell me there's no service!
Sound like any man you know -- on vacation, but still working and irritable? Why can't men relax?
The above description is an excerpt from the Wall Street Journal article, Why Relaxing Is Hard Work (for the purpose of this article I'm assuming this description is of a man, but I realize it could describe many women as well).
What's going on with this man on vacation that keeps him from relaxing? Understanding men requires learning what's going on internally. So let's take a look at some other excerpts from the article:
Only 53% of working Americans say they come back feeling rested and rejuvenated after vacation, and 30% say they have trouble coping with work stress while they're away, according to an Expedia.com survey of 1,530.
For some people, the withdrawal of stress can be similar to withdrawing from steroids — including changes in glucose metabolism and dramatic mood swings, says Conor Liston, a psychiatry resident at Weill Medical College in New York City who was the lead investigator of a brain study on stress.
Other people seem to get so addicted to the adrenaline rush from stress that they gravitate to high-pressure jobs and keep piling on new challenges; some subconsciously push deadlines and complicate projects, creating stress unnecessarily.
Put someone like that on a beach for a week, and it's no wonder they can't relax. For them, the best vacations involve physical or mental stimulation, anything from hang-gliding to culinary classes.
"...The workaholic is on the ski slope dreaming about being in the office," says Bryan E. Robinson, author of Chained to the Desk, a Guidebook for Workaholics. He says true workaholics are driven less by real workplace demands than by low self-esteem and fear of inadequacy. They bring all those feelings with them on vacation, along with added guilt of being away.
"For a lot of workaholics, work alleviates anxiety, and when you are not working, the anxiety bubbles up," says Dr. Robinson, who says that he used to pretend to rest — and secretly work instead — while his family went to the beach. "It calmed me down, like a drink calms an alcoholic," he says.
In understanding men and answering the question why can't men relax, here are a couple of things to take from this article:
Men can get addicted to the chemical high of stress
When addicted, men will seek out even more stress
Low self-esteem can be an underlying drive for men's obsessive work
Men can use work to relieve anxiety
If you know a man who this describes, get him some help from a professional counselor who knows men. Men who can't relax are at risk for high blood pressure, Type 2 diabetes, chronic pain, and a weakened immune system, as well as depression, anxiety, and exhaustion.
Even men need help understanding men and why they do what they do.
Looking for More? Check Out These Articles
Read Comments from Others with Similar Experiences - Click 'View full post' below or scroll down