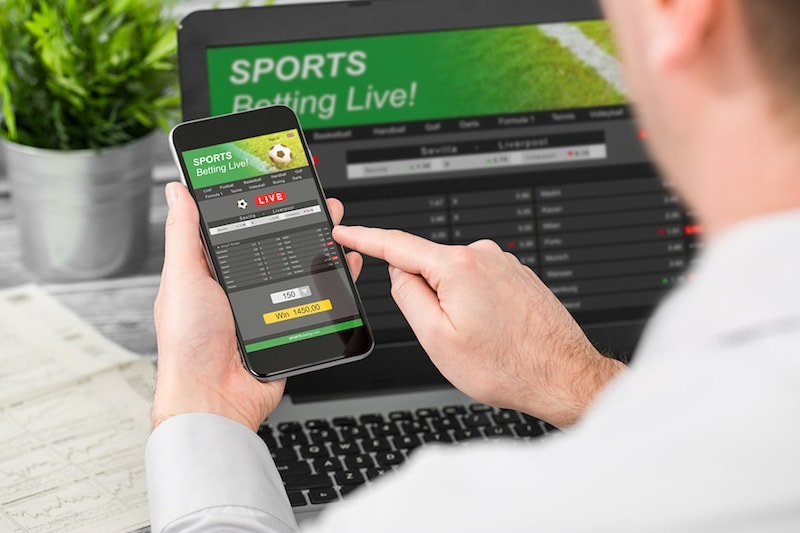 At Guy Stuff we work people suffering with many kinds of addictions. Most people immediately think of drug, alcohol, and even porn when the subject of addiction arises. But another equally destructive type of addiction is sports gambling.
Gambling, whether it's cards, horse racing, or even something like Fantasy Football can cause big problems in people's lives and relationships. It can be just as hard to quit as the others too. The constant pull of the big win makes quitting gambling a struggle for many people. One such person, Justin, sent us a question looking for help dealing with his sports gambling addiction.
Below you'll see his question and my response.
The Struggle To Quit Sports Gambling
Reader Question:
I plan to quit my sports gambling addiction, which meets with various levels of disapproval from friends and family. Some are more able to express that they are glad I'm quitting than others. I consider that their weakness and judgmentalness, if that is a word. My motivation for counseling is to learn something that would help me understand myself better and to change. I am figuring out who I am as a man at the ripe old age of 43 . I'm trying to answer that, to analyze the sequence of thoughts and feelings that make up this gambling cycle and see where I can change some of them in addition to changing the behavior itself. I have never tried to quit my compulsive sports gambling before. I've been at it for most of the last 22 years, going hard core most of that time, especially in football season. My only winning month has been September, and my only winning year was 1999. Where do I start?" -Justin T.
Justin is in a better position to achieve success than many given that he's finally recognized he needs to quit and that there will be distractors. And his desire is his own and not being pushed upon him by a significant other or family members. This is an important ingredient for success.
My Answer:
Sounds like you're off to a good start already. Here are a few positives I hear:
It's good you recognize that your decision to quit is going to meet with varying levels of disapproval. That's some good insight on your part to realize other people's reactions have more to do with them than you. This is a really important part of your recovery because understanding the influence of others is a big factor in dealing with a sports gambling addiction.
It's also good you see there's a cycle to your problem gambling. You're exactly right that you need to understand the thoughts and feelings that feed this cycle.
Here are three things to do going forward from here:
Get Some Support. Don't try to do this alone and don't try to do it with just willpower. If you do, the odds are really, really high that you'll fail - again. Get involved with Gamblers Anonymous or another 12-step program, and get a professional counselor.
Make Yourself Accountable. Put some systems in place, such as attending a GA group or meeting with an addictions counselor to help you stay committed and on track with your goal.
Find Some Expertise. Get connected with someone who's been through this before and knows what it takes to succeed. A professional counselor, who work's with men struggling with addictions, particularly compulsive gambling on sports is the best source of expertise.
Why You Should Quit Gambling – It's Not What You Think
The reason for dealing with a gambling addiction seems pretty clear, right? You're going to lose more than you're going to win, and eventually nearly all gamblers end up in debt. For many this is the driving reason for the desire to quit.
There's another reason for quitting, however, that should be as equally compelling -- your mental health and happiness. Gambling, like any other addiction, is a symptom of deeper issues and often masks other problems that need to be addressed. It's a distraction, a way to get high, and an escape from difficulties that exist in your life. And just like all other addictions, it will eventually make things exponentially worse rather than better.
The fact that there are more lows than highs when it comes to sports gambling also means that not only will it disrupt relationships and cause financial hardship, it can ultimately propel a person into a state of depression. Depression is serious in anyone, but depression in men isn't discussed as often as needed and can easily go unrecognized.
Thankfully, in Justin's case it looks like he's on the right road. If you or anyone you love are struggling with sports gambling or any other kind of gambling addiction, please consider it time to get help. Ending the addiction cycle often takes the support and assistance of family, friends, and usually the guidance of an experienced counselor.
You're off to a good start Justin -- keep it going.
Editor's Note: This post was originally published March 20, 2010 and has been updated with new information for accuracy and comprehensiveness.
Looking for More? Check Out These Articles
Read Comments from Others with Similar Experiences - Click 'View full post' below or scroll down